Fælledby: Balancing city and nature
Just beyond the Copenhagen city center, Fælledby transforms the former junkyard site into a model for sustainable living, balancing human priorities with a strong commitment to the natural surroundings.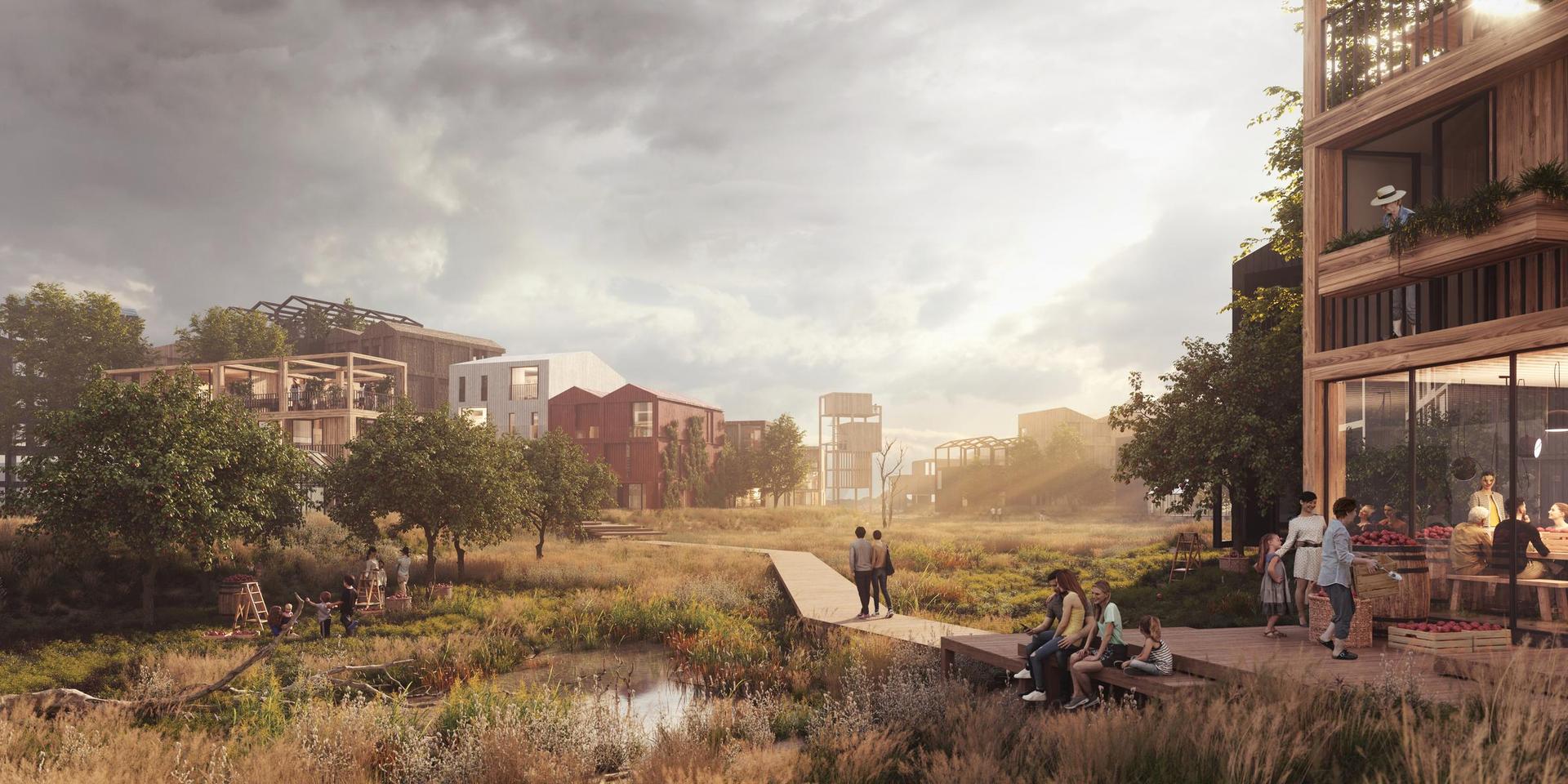 Just beyond the Copenhagen city center, Fælledby transforms the former junkyard site into a model for sustainable living, balancing human priorities with a strong commitment to the natural surroundings. Fælledby explores a living model with nature at its core, simultaneously crafting a new neighborhood to accommodate the demands of the growing city and increasing local biodiversity. The neighborhood merges traditional Danish urban and rural typologies to create a hybrid that balances the city and its natural surroundings. Fælledby will develop in phases, growing outward from three distinct "cores" that together frame the neighborhood at large. This diffuse approach will maximize access to nature for residents and will allow the landscape to be organically integrated into the site.
Developed in collaboration with biologists and environmental engineers from MOE, the scheme preserves 40 percent of the 18.1-hectare project site's undeveloped habitat for local flora and fauna. Green corridors draw the surrounding landscape into the masterplan, dividing Fælledby into three smaller enclaves. These corridors allow residents increased and direct access to nature, but more importantly, allow the animal species of Amager Fælled to move freely through and within the area.
The natural surroundings are reflected throughout Fælledby's landscaping and architecture: Small nests for songbirds and bats are built into the walls of houses, new ponds in the center of each of Fælledby's three communities offer a habitat for frogs and salamanders, and community gardens create new flowers to attract butterflies. Narrowed roads and underground parking within the plan reduce vehicle traffic and visibility, making nature the focal point.
Fælledby will be entirely timber construction, aiming to reduce the carbon impact of the development.
"[Fælledby] is an exciting and innovative proposal, unlike anything we've seen before in other parts of Copenhagen. The message from our dialogue with local citizens was entirely clear – we knew we had a responsibility to take great care of the community's plant and animal residents, while at the same time building a sustainable neighborhood within this setting. We have a strong focus on developing the Fælledby masterplan on natural, local terms," says Anne Skovbro, Managing Director of By & Havn.
A beautiful place out in the country
In Denmark, building in harmony with the landscape is nothing new. For 1500 years, the agrarian Danes have established villages and homesteads throughout the countryside, always built with a keen awareness of the effects on the surrounding farmlands, pastures, and animal habitats.
The Fælledby masterplan translates these fundamental qualities – a close-knit community, and an intimate connection to nature – into a new, sustainable district. Fælledby takes shape as three radial neighborhoods, each one encouraging a more intimate, small-scale sense of community to flourish. Native-planted green swathes run between these three mini-villages, ensuring free movement for local wildlife and weaving the natural landscape into the core layout of the larger Fælledby community. From any given residence, nature – untamed and indigenous – is less than a two-minute walk away.
Accommodating growth and liveability in Toronto

Rapid population expansion is often detrimental to urban liveability. The new sustainable neighbourhood of Downsview in Toronto steps up to the challenge through a combined focus on people, place, and nature.

Electric grid delivering conservation gains

To facilitate a build-out of energy infrastructure that does not put sensitive species and habitats at risk, Ramboll partnered with Scottish and Southern Electricity Networks (SSEN) to protect local wildlife in the Lairg-Loch Buidhe transmission reinforcement project.

Sundby: Nordic Swan Ecolabel school

Designed at the intersection between learning and landscape, Sundby School takes educational opportunities to new heights inside the building, as well as on the route to and from school. Without physical barriers, the school's shape creates a protective middle space where students are free to explore their surroundings.
Signe Kongebro

Global Design Director, Urbanism – Henning Larsen

Helene Bekker

Head of Department Landscape & Urbanism