Sundby: Nordic Swan Ecolabel school
Designed at the intersection between learning and landscape, Sundby School takes educational opportunities to new heights inside the building, as well as on the route to and from school. Without physical barriers, the school's shape creates a protective middle space where students are free to explore their surroundings.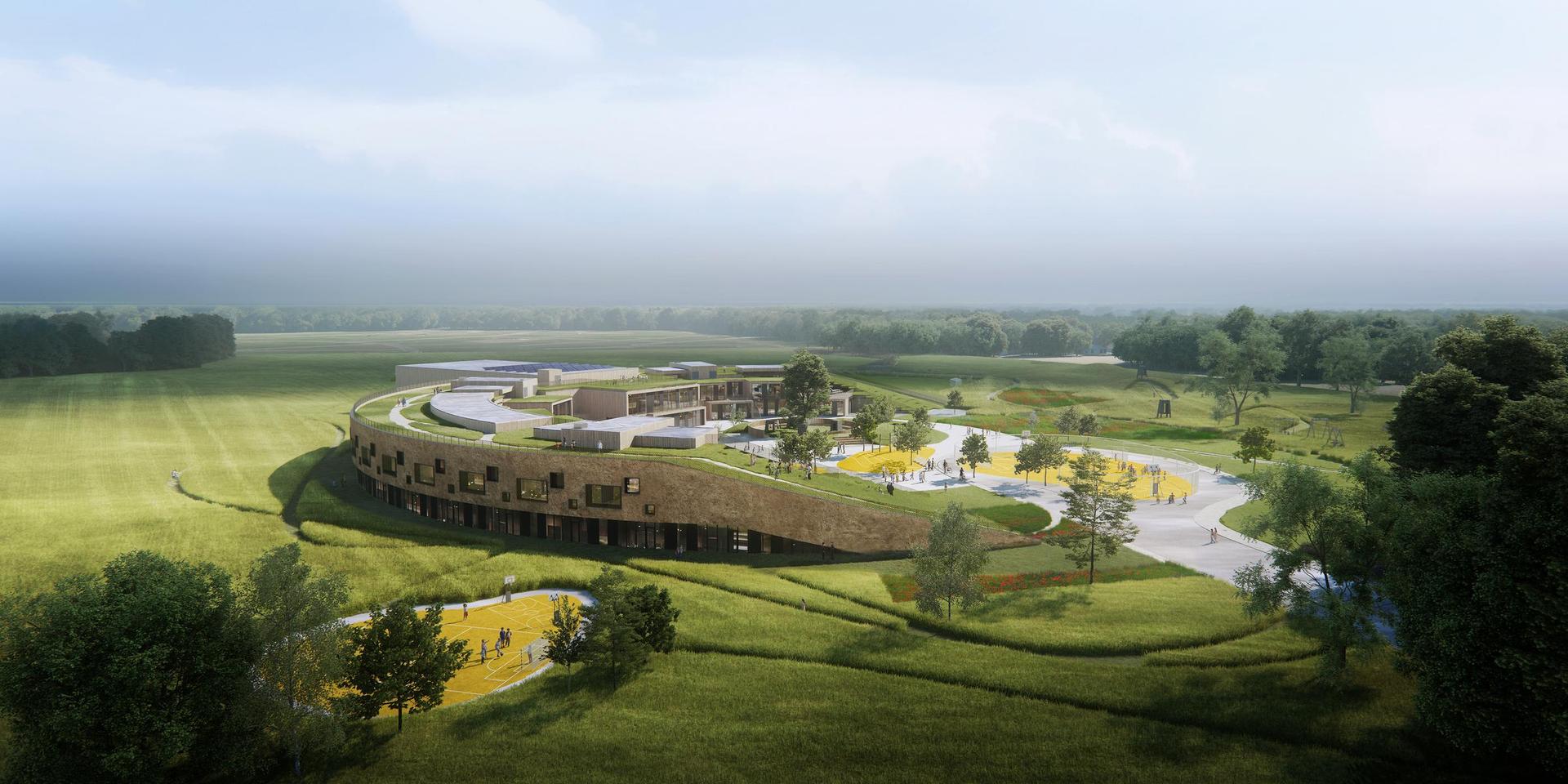 The primary school has a variety of flexible spaces - inside and out – encouraging new ways of learning and working on the Lolland-Falster islands.
Sundby School has no fences or barriers keeping students on school grounds. Instead, the school's circular shape creates a protective middle space where students can play and are free to explore the surrounding landscape.
Nature and community at the heart
Located on the edge of town, the school is designed to take advantage of nearby nature and bring the outdoors in. This allows students to gain creative development learning experiences and mix up their usual school schedule. The building appears to push up from the ground with a roof that forms a hill with a lookout point. This hill offers a views of surrounding landscapes and public access facilitates.
In fact, the circular roof creates a slope to walk upon to see the sun set or go sledding in the winter. In this way, the school becomes part of the landscape and generates adventures for everyone in the community.
Sundby School is designed with a clear vision to build and strengthen a relationship between the local community, sports, and cultural life. A library, café, sports, and music facilities are centrally located and outward-facing to invite the community inside.
The first Nordic Swan Ecolabel Primary School of Denmark
A healthy environment is essential for learning. In Denmark, each child spends around 11,000 hours of their lifetime in school. Daylight, humidity regulation, acoustics, and air quality help create an indoor climate where students and teachers thrive.
When the school opens, it will have a capacity of approximately 580 children and 100 employees across two floors. The structure is intended to have a high degree of flexibility to adjust functionality and location as needs evolve. The building is planned to accommodate future expansion from two to three stories. This ensures the school is a modern and sustainable institution for years to come.
Cavendish III labs , Cambridge

Civil, structural and vibration engineering concept for the Cavendish III two buildings laboratory and neighbouring shared facilities hub, enabling the University of Cambridge to continue pursuing world-class physics.

Campus Ås – designing a knowledge hub

The Norwegian School of Veterinary Science, the Norwegian Veterinary Institute, and a state biomedical research facility gather under one roof known as Campus Ås. It is a learning and knowledge-sharing hub for biomedical research laboratories and other academic facilities, balancing technical demands with sustainable measures.