Accommodating growth and liveability in Toronto
Rapid population expansion is often detrimental to urban liveability. The new sustainable neighbourhood of Downsview in Toronto steps up to the challenge through a combined focus on people, place, and nature.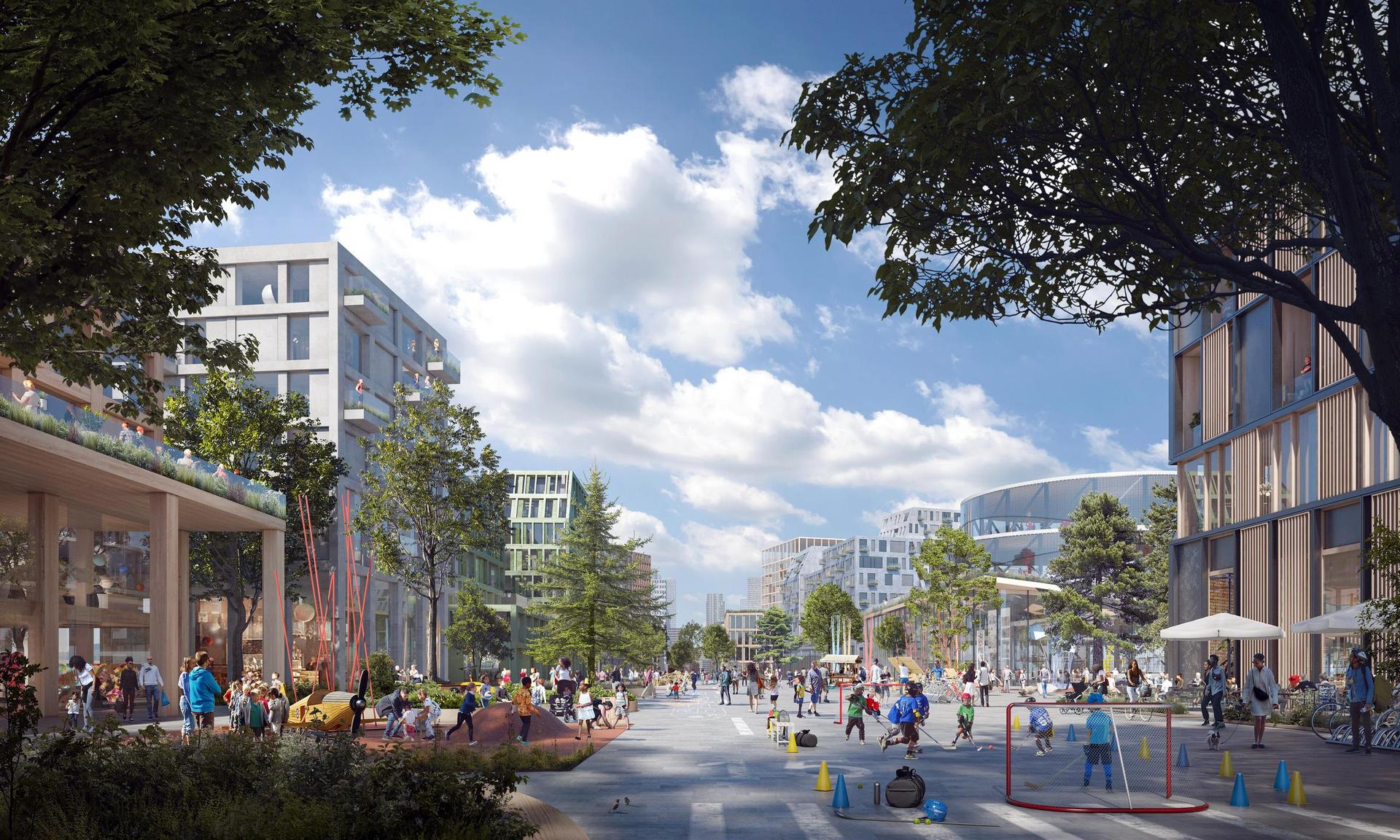 In collaboration with Toronto-based firm KPMB Architects, landscape architects SLA, Urban Strategies Inc., and engineers Transsolar, Henning Larsen and Ramboll have reimagined the future of an expansive, 520-acre former airfield site in north Toronto's Downsview district.
People, place, and nature come together in our vision for a green-minded, human-scale and people-first community. The Framework Plan will convert a former airbase into a residential and transit hub, inclusive of diverse and affordable housing developments for 80,000 residents; transformations of existing buildings for sustainable reuse; a new community centre; community-led programmes including markets, maker spaces, and urban farming; collaborations with Indigenous peoples; green infrastructure linking new parks and open spaces; and a multitude of new job opportunities.
The plan for Downsview prioritises a carbon-neutral future through low-rise mass timber buildings. The design intertwines nature and architecture, with lush green corridors and enhanced biodiversity offering residents and visitors a sense of retreat from the hustle and bustle of the urban setting without needing to leave the district.
"To provide for the current rate of population expansion, we would need to make a new city for 1.7 million people each week," says Michael Sørensen, Henning Larsen's Design Director for North America. "The city is an inevitable fact of the future. So, in order to ensure not just quality of life for future populations, but also the conservation of nature, it is essential that the relationship between city and nature is both/and not either/or. Downsview is a commitment to that vision."
Downsview has received a double accolade at the 2022 World Architecture Festival (WAF), including the overall category winner of WAF Future Project: Masterplanning, as well as being recognised as a 2022 WAFX award winner. The awards celebrate international projects that display effective design approaches for tackling the world's most pressing issues, from climate change to building sustainable and resilient communities.