Bishan Park Singapore: nature for all
Converting a concrete canal into a river with dynamic nature-oriented spaces for Singapore's communities. The 62 hectare park is one of the most popular in the city state, redesigned to accommodate the dynamic processes of the river system and provide a lush natural environment for visitors.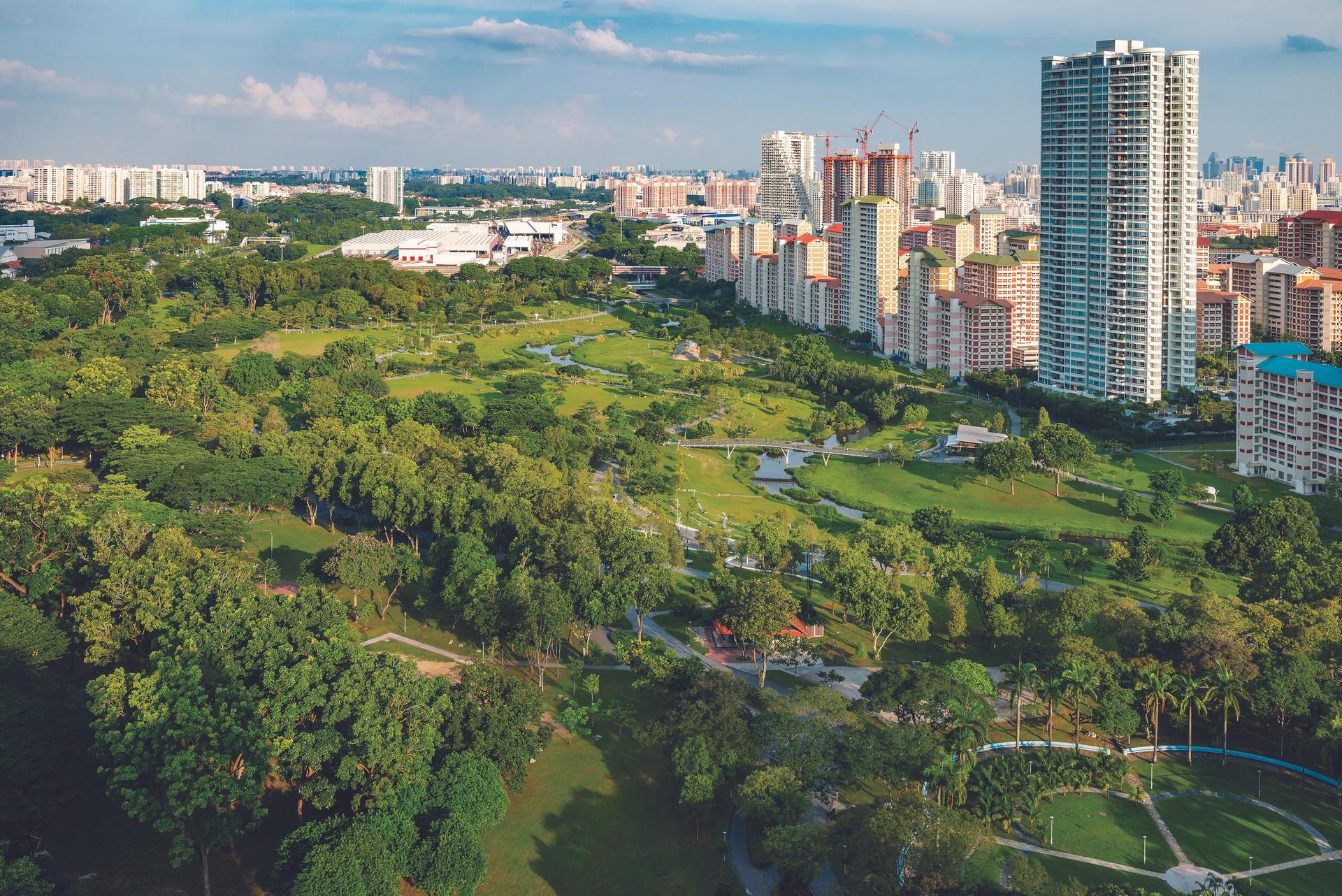 Bishan-Ang Mo Kio Park is one of the most popular parks in the heart of Singapore. Its popularity came after community improvement plans upgraded the park, including transforming its 2.7 km straight Kallang concrete channel along the park's edge into a semi-natural winding river.
The 62 hectares of park space was uniquely redesigned to accommodate the dynamic processes of the river system (including fluctuating water levels), while also providing a relaxing and lush natural environment for visitors to enjoy a break from the bustling city life.
Bishan Park includes three playgrounds, restaurants, a new vantage point constructed using recycled concrete from the old channel, lush vegetation, ponds, gardens, river plains, and plenty of open green spaces. Each element works together to connect people to nature and encourage recreational activities.
Applying blue-green infrastructure—an essential layer in liveable cities
To create healthy park ecosystems that provide cost-effective alternatives to traditional 'grey' infrastructure, we used nature-based green and blue infrastructure solutions.
Blue-green infrastructure (BGI) connects hydrological elements (blue infrastructure) like rivers, canals, floodplains, etc, with vegetation systems (green infrastructure) from trees, floodplains, etc., in urban landscape design. BGI complements, and often replaces, the need of grey infrastructure like the old Kallang channel. Most importantly, BGI can provide ecosystem services, which are benefits that flow from nature to people. Benefits can be provisioning (e.g., the supply of food, clean air, water, and materials), regulating (e.g., water and climate regulation, nutrient cycling, pollination, or the formation of fertile soils), or cultural (e.g., recreation opportunities, or the inspiration we draw from nature). For communities facing the challenges of climate change, BGI provides greater overall socioeconomic benefits than the sum of its individual components.
"As part of a comprehensive system, BGI projects strengthen urban ecosystems by employing natural processes. Nature-based solutions can help meet demands for sustainable water and stormwater management with the demands of climate adaptive urban planning," says Leonard Ng Keok Poh, country market director, Singapore.
Contributing to core sustainability programs
Singapore is committed to enhancing and managing their urban ecosystems, and we're committed to helping Singapore. To complete the Bishan-Ang Mo Kio Park project, Ramboll Studio Dreiseitl collaborated with Singapore's National Parks Board, Public Utility Board, and other municipal partners.
Moreover, the Bishan-Ang Mo Kio Park project is part of the Active, Beautiful, and Clean Waters Programme (ABC Waters). ABC Waters is a long-term initiative of Singapore's National Water Agency (PUB) to renovate Singapore's water bodies beyond their drainage and water supply functions, and to 'transform Singapore into a city of gardens and water.
Bishan Park blue-green infrastructure benefits
:

Rainwater and retention management (flood prevention, groundwater level, water quality improvement, drainage, open water system, closed water loop, water recycling, etc.)

:

Climate change adaptation, including reducing the urban heat island effect, through increased biodiversity and surface permeability, and adaptability for extreme climate events, like flooding

:

Provides designed and open spaces for gardening, farming, and recreation in a dense urban settlement
Watch the video of members of the project team talk about the challenges, the vision, and the extraordinary outcomes of the iconic park
2016 American Society of Landscape Architects (ASLA) Professional Honour Award, General Design Category · 2015 Water Environment Federation (WEF) Storm TV, Programs & Projects Award
2013 LIAS Awards of Excellence Silver, Playground & Amenities
Architecture of Necessity, Honourable Mention 2013,
2012 President's Design Award
2012 Singapore Design Award, Adventure Playground
2012 WAF Landscape of the Year
2012 WAN Engineering Award Long list
2012 Finalist LivCom Liveable Communities, category: Natural Project
Fælledby: from junkyard to model town

Just beyond the Copenhagen city center, Fælledby transforms the former junkyard site into a model for sustainable living, balancing human priorities with a strong commitment to the natural surroundings.

Ecosystem services in PPP regulations

Embedding ecosystem services in plant protection product (PPP) regulations. Providing a decision-making framework to drive sustainable herbicide use in crop production - to balance protection of crops and beneficial plants and control weeds detrimental to food production.

Kampung Admiralty, Singapore

Dense urban developments often have a detrimental impact on ecosystems and liveability. Kampung Admiralty demonstrates how nature and innovation create attractive, biodiverse, and resilient housing.