Nordhavn: blueprint for a 5-minute city
Designed to reach all amenities within 5 minutes' walk, Nordhavn in Copenhagen, Denmark, is a carbon-neutral development plan that has received DGNB's highest gold certification for sustainability. And provides 40,000 residents access to nature on their doorstep.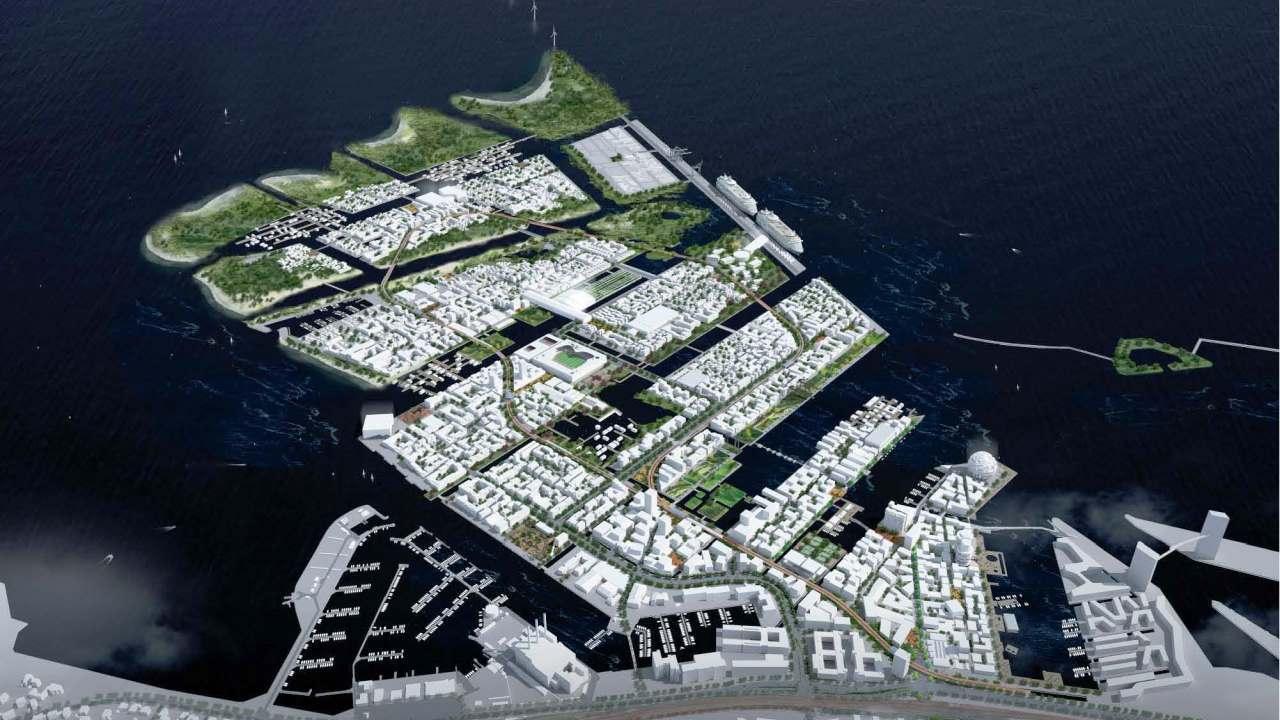 Sustainability is integral to every phase and all aspects of the project, even setting new standards for working with sustainability – both in Denmark and internationally. Nordhavn is the only new urban district globally to receive DGNB's highest gold certification for sustainability.
Social, economic, and environmental sustainability go hand in hand in Nordhavn. Sustainability does not only relate to a sustainable supply of energy, or one or two sustainable buildings, but will be part of every aspect of the everyday life for the people living there.
Creating attractive cityscapes
To promote liveability and sustainability, Ramboll master planned and designed Nordhavn as a "5-minute city" so people can reach shops, institutions, workplaces, cultural facilities, and public transport within 5 minutes' walk from any point in the district.
"Nordhavn provides the opportunity for 40,000 people in Copenhagen to have nature at their doorstep – right in the centre of the city. Its neighbourhood design drastically rethinks how cities can combine different ways of living with sustainable energy, environment, mobility, and cityscape solutions," explains Ramboll project manager and architect, Jacob Deichmann.
Promoting public transport, smart mobility, and cycling
Over the next 50 years, Nordhavn will expand to accommodate 40,000 inhabitants and 40,000 workplaces. The area will feature an elevated metro track and a greened bicycle network. The elevated track functions as a cover for the bicycle 'highway,' so cyclists can stay dry in all weather.
Solar cells and geothermal energy can comfort the community all year
From an environmental perspective, we are ensuring the CO2-neutral urban area accommodates energy forms such as district cooling, district heating, and geothermal energy, while solar cells provide electricity. A geothermal energy plant will deliver low-carbon heat to Nordhavn and parts of the nearby Østerbro city district. The world's biggest heating storage facility will store surplus heat in the summertime and use the stored energy in the wintertime.
To meet city of Copenhagen's expectations, Ramboll is consultant for the overall development and is undertaking urban development projects in the nearby Aarhusgade and Sundmolen areas, as well as the 3-km long road link 'Nordhavnsvej,' the new road tunnel 'Nordhavnstunnellen,' and the new Nordhavn metro extension connecting the district to the greater city.
Ramboll is working with COBE architects, SLETH, and Polyform on the project, which won the project competition with 179 proposals from around the world.
Accommodating growth and liveability in Toronto

Rapid population expansion is often detrimental to urban liveability. The new sustainable neighbourhood of Downsview in Toronto steps up to the challenge through a combined focus on people, place, and nature.

World of Volvo

At World of Volvo, native Swedish landscapes and the right to roam take center stage. The experience center is a single structure entirely built in wood, reflecting the tradition of the famed swedish automobile brand.

Lighthouse at Darling Park

A confident, clear, and poetic gesture for the people in the heart of downtown Sydney. Lighthouse at Darling Park is designed to be both a human scale destination and a true urban icon on the skyline – a beacon for the people's harbor.
Anders Dyrelund

Senior Market Manager

Søren Hansen

Project Director

D: +45 51 61 76 04 M: +45 51 61 76 04