Sustainable blue chip commercial high rise, London
2 Finsbury Avenue is a 38 storey, 106,000 sq m (GIA) development in the heart of the City of London, targeting BREEAM Outstanding, Net Zero Carbon and is trailblazing many forward-thinking solutions that are breaking the mould in sustainable office design.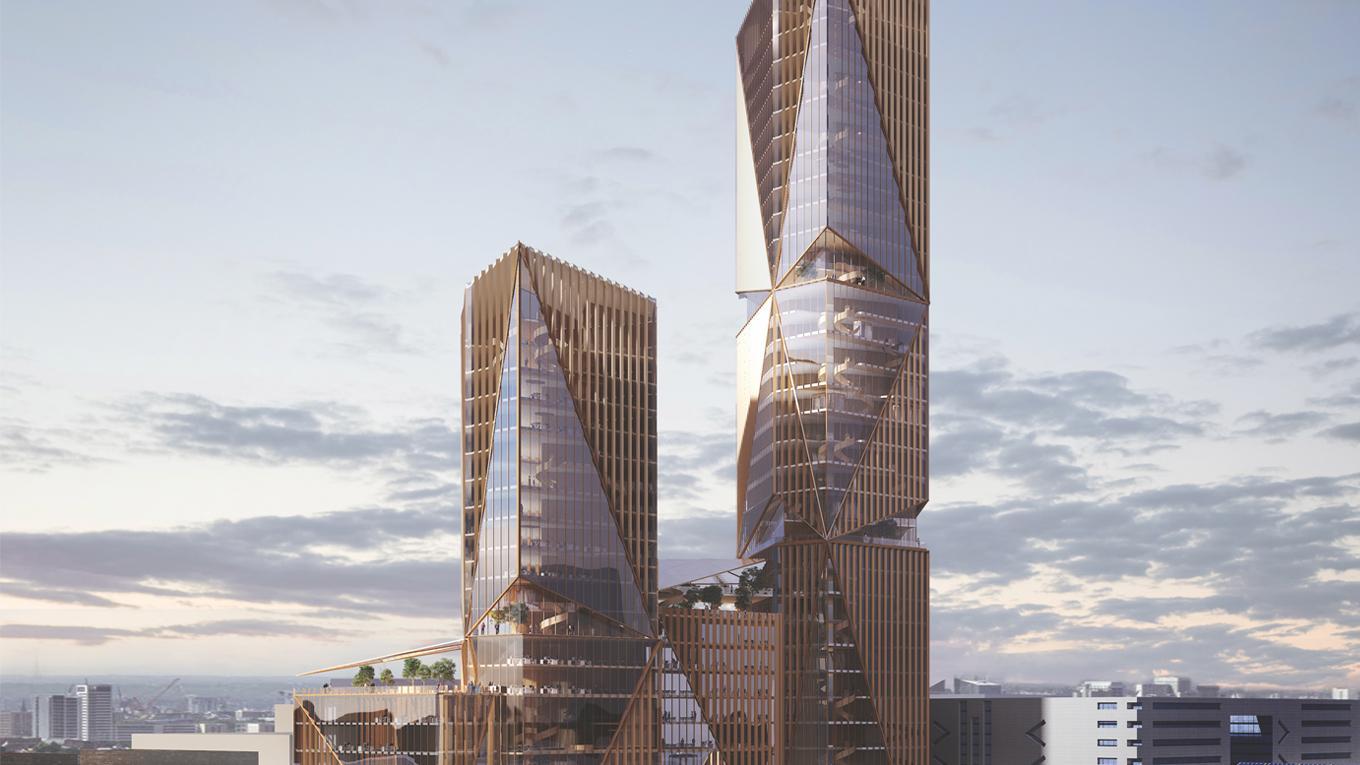 Leading the field in net zero blue chip London office development
The team has undertaken extensive rationalisation to minimise construction interventions, employed circular economy, resource efficiency, operational efficiency and a hybrid energy concept to deliver this outstanding blue chip office development, which at the time of going into planning, led the field as the best performing building in London, in terms of carbon reduction.
Hybrid energy is a fresh approach to systems design that delivers leaner and lower carbon buildings. Standard design in the UK regularly results in building systems with up to 50% more electrical capacity and 30% more heating and cooling capacity than needed. Using data and analysis to design building systems more efficiently, ultimately delivers considerable savings in capital expenditure and CO2.
2 Finsbury Avenue is designed to use 100% renewable electricity, and using heat pumps, highly efficient water-cooling chillers, will ingeniously be brought together in an energy system that operates as efficiently even if the building is only operating at 2% capacity.
Circular economy and resource efficiency
With a strong focus on sustainability, by means of lean, low carbon design, the project will be a vertical village with green urban areas and amenity spaces – a stand-up neighbourhood. Adopting circular economy approaches, the building is being designed for disassembly, with many existing building elements being re-used, including the existing façade.
Greater pedestrian connectivity
As a core feature, Finsbury Avenue will be extended to enable greater pedestrian connectivity through a public route under the building. A new, open learning hub will enable public access to the building and facilitate formal learning programmes, informal networks and talks from institutions.
The project delivery will enhance the Broadgate area through an extensive offer of flexible, high-quality working space catering to a diverse tenant base, including incubators, start-ups, and medium sized businesses, to become a "world class, seven-day, mixed use central London destination" (British Land).
Ramboll is the primary project engineer, delivering structural and services engineering. Together with the project team and client, we are working closely to co-create this ground-breaking building.
Project team: 3XN – Lead Architect | Ramboll – MEP & Structural Engineer | Adamson Associates – Executive Architect | SWECO – Vertical Transportation | GXN – Innovation Consultant | Atelier Ten – Sustainability Consultant | DP9 – Planning Consultant | Core Five – Cost Consultant | Gardiner & Theobald – Project Manager | Framework Contractor – Sir Robert McAlpine.
Early client engagement and close collaboration have been key to the project's success, with the team ensuring the brief was right from the outset and challenging standards to deliver on the client's aspirations for a highly sustainable blue chip high rise.
Charles Horne, Project Director British Land, says: "The great team we have working on 2FA is certainly the best all round team I have worked with in my 45 years, you and the Ramboll team are exceeding expectations and delivering outstanding design and innovation at every turn."
The development at 2 Finsbury Avenue will offer NIA of 63,000 sqm of office floorspace, 1,000 sq m of retail space and 1,800 sq m of learning space.
Through an innovative approach to removing carbon intensity as well as significant client engagement, a modern concept was achieved in building behaviour, allowing for an early gain of 14,000 sq m area compared to the previous consented scheme, whilst avoiding overdesigning, substantial groundworks and the need for transfer beams. The use of very low carbon steel, very high cement replacement and timber where it adds value, has resulted in 30% lower carbon in construction.
Ev0: UK's first net-zero office building

Ev0: Realising UK's net-zero carbon vision for workspaces. The Ev0 building is set to be one of the UK's lowest carbon new build workspaces, using timber and low-carbon concrete in combination with boundry-pushing design and sustainability goals to achieve ultra-low embodied and operational carbon emissions.

Kaj 16: innovative timber building

Kaj 16, a multi-storey mixed-use residential and commercial building in the Swedish city of Gothenburg, offers a case study in how extensively we innovate with timber buildings. The building uses hybrid concrete and timber solutions and reuses material's from the site's original structure.

The Marble Pier: a timber wonder

The Marble Pier One of the largest timber buildings ever constructed in Denmark shows why it makes sense to use this traditional building material to lower carbon impact and increase livability. Henning Larsen and Ramboll worked closely with client AP Pension on all aspects of this landmark.