The Marble Pier: a timber wonder
The Marble Pier One of the largest timber buildings ever constructed in Denmark shows why it makes sense to use this traditional building material to lower carbon impact and increase livability. Henning Larsen and Ramboll worked closely with client AP Pension on all aspects of this landmark.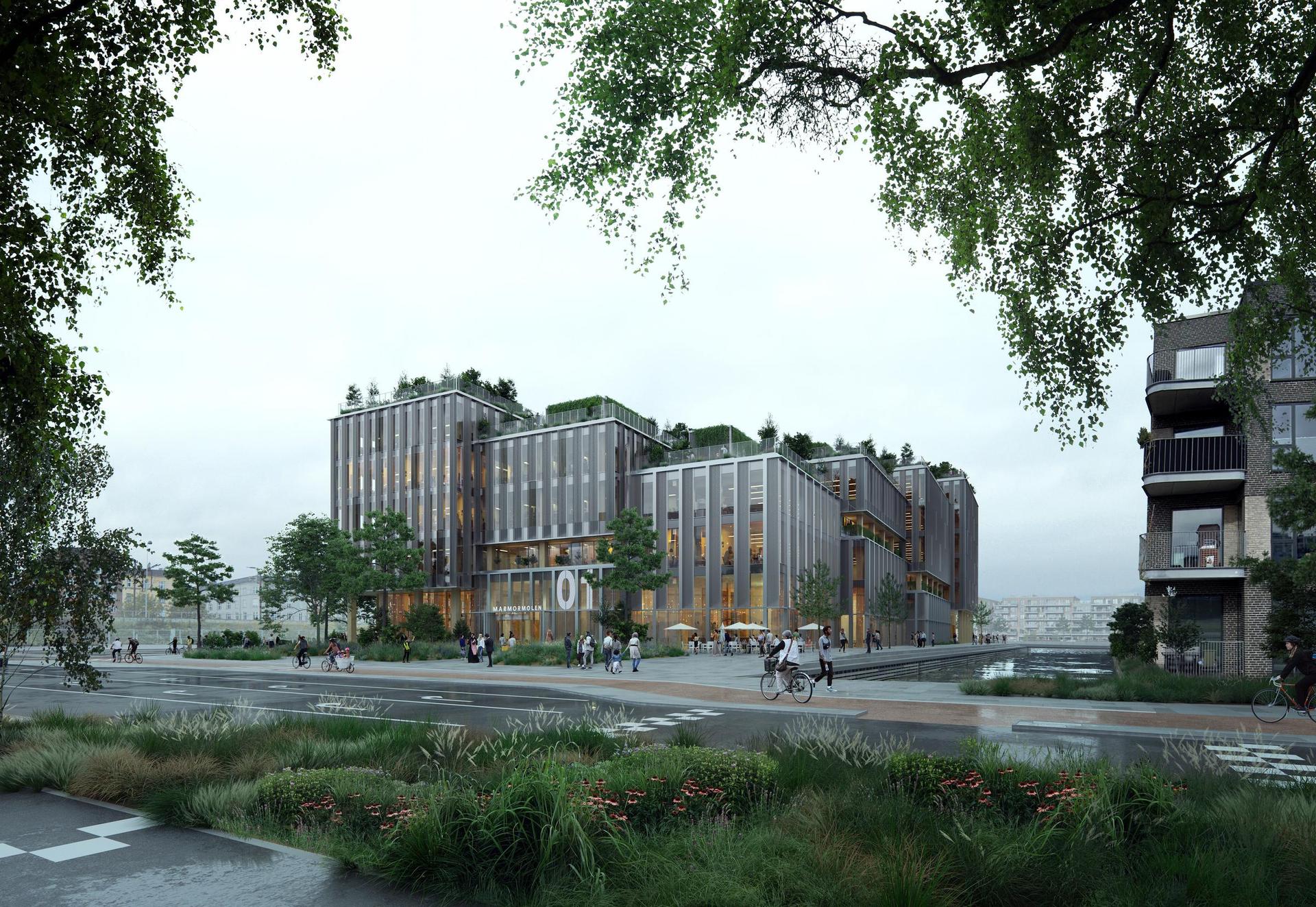 Timber is one of the oldest building materials, but it has recently come back in style as a sustainable alternative to concrete and steel. In Copenhagen's Nordhavn neighbourhood, a towering new project perfectly encapsulates why.
With eight storeys, the 36-meter-tall building covers 28,000 square metres. This makes the Marble Pier one of the largest timber buildings ever constructed in Denmark and home to some of the most sustainable offices possible with existing technology
. By using timber, the carbon footprint of the Marble Pier is reduced by approximately 50% compared to a traditional concrete build, resulting in 9,500 tonnes fewer total emissions. Of that, 3,000 tonnes are avoided emissions by using timber instead of concrete, and 6,500 tonnes are sequestered by the timber during the building's lifetime.
Ramboll and Henning Larsen Architects, alongside the contractor Hoffmann, are the sole project designers for the Marble Pier, responsible for the multidisciplinary project from concept to construction, including a full life cycle assessment on behalf of the client, AP Pension, one of Denmark's largest pension funds.
"In AP Pension, we are doing everything we can to push the buildings industry in a more sustainable direction. That is why we are primarily using timber for the load-bearing structures at the Marble Pier," said Peter Olsson, CEO of AP Pension's real estate subsidiary, AP Ejendomme, to Estate Media in March 2022.
"This is the first time we work with timber in a project of this size, but we want to lead the green transition, and that requires using materials that can reduce the carbon footprint," he adds.
Better office, better health
Building in timber also has benefits for wellbeing and health. For one, building inhabitants are exposed to fewer toxins than in a similar build using traditional materials. And timber constructions are better able to regulate moisture levels, resulting in an improved indoor environment.
At the Marble Pier, several rooftop gardens provide guests and residents a chance to enjoy a break in a green, natural environment. The gardens simultaneously double as oases for biodiversity, with beehives and butterfly 'hotels' placed alongside the vegetable gardens supplying fresh produce for the building's restaurant and café.
Integrating nature into building projects not only improves their look and feel but has tangible benefits for the companies residing there.
The Marble Pier is expected to receive the highest possible sustainability accreditations for buildings, namely, DGNB Platinum, as well as the WELL certification.
Located on a pier side development in Copenhagen, Denmark, construction of the Marble Pier began in 2021 and is expected to be completed by 2024.
Ramboll has worked on several landmark timber projects. Across the strait from Copenhagen in Gothenburg, Sweden, the Kaj 16 mixed-use development designed by architect Dorte Mandrup is set to become one of the largest timber buildings in Europe.
Ev0: UK's first net-zero office building

Ev0: Realising UK's net-zero carbon vision for workspaces. The Ev0 building is set to be one of the UK's lowest carbon new build workspaces, using timber and low-carbon concrete in combination with boundry-pushing design and sustainability goals to achieve ultra-low embodied and operational carbon emissions.

Kaj 16: innovative timber building

Kaj 16, a multi-storey mixed-use residential and commercial building in the Swedish city of Gothenburg, offers a case study in how extensively we innovate with timber buildings. The building uses hybrid concrete and timber solutions and reuses material's from the site's original structure.

Nordhavn: blueprint for a 5-minute city

Designed to reach all amenities within 5 minutes' walk, Nordhavn in Copenhagen, Denmark, is a carbon-neutral development plan that has received DGNB's highest gold certification for sustainability. And provides 40,000 residents access to nature on their doorstep.