LCA & environmental product declaration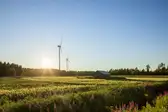 LCA can be used as the basis for an environmental product declaration (EPD) to demonstrate transparent, comparable, objective and third-party verified data regarding a product or service.
The advantage of an EPD is that there are clear rules on how the LCAs should be calculated and accounted for, and within construction products, for example, the EN15804 standard specifies exactly what the calculation and accounting requirements are so that products can be compared accurately. Life cycle assessment can also be used as a basis for an EPD following ISO 14025.
EPDs can be included in the criteria for procurement in a variety of industries and can serve as a basis for reporting on climate change impacts for an entire building.
Ramboll's multidisciplinary expertise
Ramboll provides life cycle assessment and environmental impact assessment services with experts who have more than 15 years' experience preparing calculations and implementing projects. Our engineers work on a range of products across many industries, including construction, energy production, clothing, air cleaning technology, waste prevention, recycling, batteries, and more.
Our EPDs are developed for all types of products and EPD systems. Ramboll participates in the ECO Platform working on aligning EPD systems to ensure comparability within construction EPDs.
Third-party verification and review
As recognised LCA experts and approved verifiers, we can also conduct third-party verification of EPDs within multiple systems and organisations including the International EPD system, EPD Denmark and EPD Norway. We have accredited professionals with the American Center for LCA, and one of our staff members is a board member of Ecoplatform, the German EPD umbrella organisation.
Ashley Kreuder

Managing Consultant

Niclas Silfverstrand

Environmental Consultant