Work for a company that strives to make a difference for employees, clients, and society
View open positions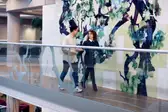 Shape the society of tomorrow
Want to help us put people at the heart of sustainable change? You are invited to help solve some of the biggest challenges facing societies, companies, and people around the world. We use our unique combination of technical insights and experience to deliver enduring infrastructure and resource-efficient, low-carbon solutions for the communities of today and tomorrow.
Unique UK careers
UK employees have the opportunity to work their hours flexibly as standard and our personalised approach to hybrid working helps you to discover the balance between home and office that works for you and your role. This approach, combined with our supportive culture and breadth of opportunities will help you enjoy a career as unique as you are.
Find out how these aspects and more have shaped the careers of some of our current employees.
A career as unique as you are
Innovation starts with diversity and inclusion
Join over 17,500 people from a wide range of backgrounds, nationalities, and expertise. We believe that equality, diversity, and inclusion create the best collaboration results and work environments. Both our employees and our clients benefit because we take equal opportunities seriously. Learn more about our Equality, Diversity, and Inclusion (EDI) policy.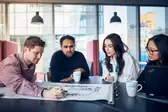 Explore work-life balance and benefits
We offer a friendly and flexible hybrid work environment to encourage and empower you to plan and shape your daily tasks. Each role and job market has distinct flexibility agreements.
To support our hybrid working colleagues and collaboration in general, we use digital collaboration and e-learning platforms as well as provide strong IT services support.
Related content
Jump start your career

Offering opportunities for students, recent graduates, and early stage professionals.

Our recruitment process

We're continuously looking for bright minds to help us shape a brighter future. Explore the stages of our hiring processes, learn what to expect, and get some tips from our recruiters.