Dallas Fort-Worth carbon neutral airport
Dallas Fort-Worth International Airport: setting the stage for net positive. Creating a next-generation sustainability strategy at the first carbon-neutral airport in North America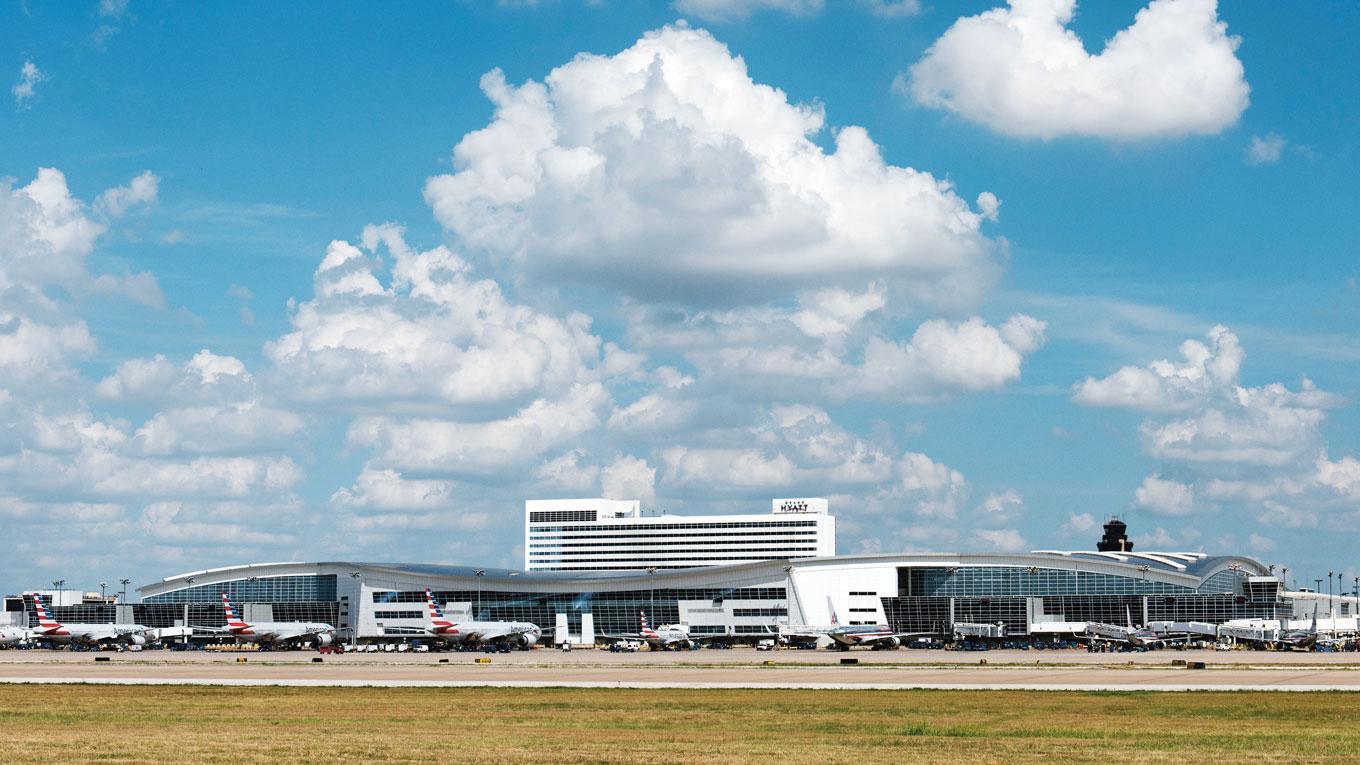 Dallas-Fort Worth International Airport (DFW), the first Airport Carbon Accredited carbon-neutral airport in North America, is known for its sophistication and commitment to sustainability. Since 2019, Ramboll has supported the airport realize its sustainability ambitions.
DFW Airport has made it a strategic priority to decouple passenger growth and economic performance from its carbon impact. To this effect, Ramboll is helping DFW develop a next-generation, cross-cutting sustainability strategy that supports the airport's multiple strategic objectives to remain a carbon-neutral airport while continuing to grow. We are updating the airport's existing sustainability management plan to articulate its long-term vision for net positive impact on the communities it serves. This net positive impact means giving out more than what is taken in – while at the same time, focusing on society, the environment and the health of the global economy over making a profit.
The plan establishes the airport's ambitious targets for carbon, energy, water and biodiversity, circular economy, equity, and health, safety and wellness.
In addition to creating the long-term sustainability strategy, Ramboll has supported other key initiatives such as:
Exploring an anaerobic digestor to manage the airport's organic waste
Reframing the airport's environmental management system to integrate sustainability
Developing a pandemic preparedness plan
Enabling projects for the airport's digital twin
Developing a tree conservation plan to guide new development
Analysing air quality and noise
Pursuing a LEED Campus program for future terminal development projects
Deploying innovation to advance biodiversity net gain
We're also working to deploy Ramboll's sustainable land management technology Galago as part of a habitat monitoring project to advance another of the airport's goal for biodiversity net gain. In keeping with their net positive ambition, DFW has embraced the airport's role in protecting and enhancing
ecosystem services, habitat quality and biodiversity across its large landmass in harmony with airport operations.
The project leverages Ramboll's multi-benefit solutions and raises the bar for Dallas-Fort Worth International Airport's approach to not only sustainability and resilience, but also safety and security, customer experience, business performance, operational excellence and employee and community engagement.
As DFW advances on its digital transformation journey, Ramboll is supporting initiatives to leverage technology solutions such as digital twin to enable the airport to more effectively manage energy, understand passenger flows, and move to a more predictive model for its operations. These efforts will help the airport withstand, and more quickly recover from, stresses and shocks such as future extreme weather events or pandemics.
Citigen: heating and cooling solutions

Citigen energy centre is one of UK's largest urban heating combined heating and cooling tri-generation systems, located in central London. We provided unique solutios for combined heating and cooling.

Sustainably expanding Helsinki Airport

To meet the future traffic demands and improve passenger services, we collaborated to significantly expand terminal area in Helsinki Airport. The terminal expansion project is part of Helsinki Airport development programme.

Capacity upgrade of Stansted Airport

Upgrading Stansted airport, to help it meet massive growth expectations for passenger capacity in the coming decade. The ambition is to deliver additional capacity and improved passenger experience whilst maximising energy efficiency and environmental benefits.