National Highways' sustainability impact
Driving sustainability for the UK's leading road network. Since 2006, Ramboll's work has contributed significantly to improving National Highways' sustainability impact and performance across 8,000 km of motorways and major roads.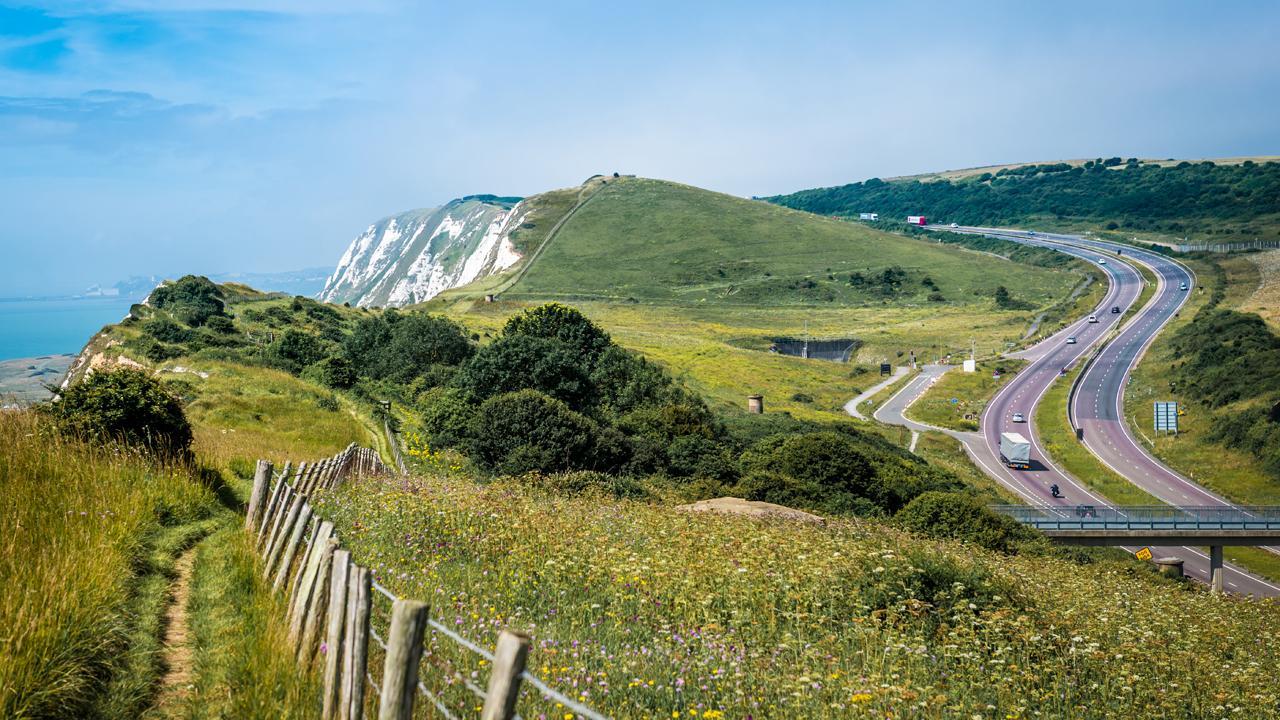 Ramboll has partnered with National Highways since 2006, providing sustainability and environmental performance advice and innovative solutions for improvement, aiming to understand and manage the true impacts of the design and construction of highway improvement projects, as well as the operation and maintenance of the highway network.
Measuring sustainability impacts and improving sustainability performance (LCA)
As part of developing a sustainability strategy, National Highways needed to understand and establish a baseline for its total impact on sustainability, appointing Ramboll to identify and quantify this impact. The impact assessment encompassed 8,000 km road network, focusing on the most important roads in England as well as supply chains.
Innovative approaches to carbon emissions, climate change, noise, air quality, water quality, flooding and biodiversity
Our teams have developed bespoke solutions that address the unique requirements of managing the UK's most important road network and allowed National Highways to establish holistic activities to drive improvements across the highways network and through its business logistics. We have explored and helped implement innovative approaches to driving improvements across carbon emissions, climate change, noise, air quality, water quality, flooding and biodiversity. The lengthy partnership goes beyond looking at just National Highways in isolation and stretches out to influence the supply-chain and customers.
We continue to innovate with National Highways, most recently developing automated processes and machine learning to analyse multi-scale aerial imagery of the environments surrounding their road network, to monitor them more often and more cost-effectively, enabling National Highways to improve environmental performance and prioritise investment into the areas that need it most.
In April 2022, one of the most ambitious strategies in UK infrastructure was announced – National Highways' Net Zero Highways plan moves into delivery phase as WSP, alongside consortia Ramboll and Mott Macdonald are re-appointed to lead the plan's implementation. The team will provide technical and management support to National Highways until 2024 on the delivery of their net zero commitments made around direct operations (by 2030), net zero maintenance and construction (by 2040) and zero emission road travel (by 2050).
The sustainability advice we consistently provide allows National Highways to make informed decisions, working towards a sustainable road network and keeping sustainability considerations at the forefront of the National Highways agenda.
448 noise important areas (IAs) mitigated during 2017-18
10,000 trees planted along the roadside in the south-west
40 flooding hotspots mitigated in 2018
12 diesel vehicles switched to electric vans
38 continuous air quality monitoring stations installed
2,800 tonnes of planings (material removed from road surface) diverted from landfill and encapsulated into recycled aggregates.
204 tonnes of carbon dioxide equivalent saved through use of low temperature asphalt
Mersey Gateway: connecting societies

Featuring a new 1km six-lane cable-stayed toll bridge over the river Mersey and a further 1.2km of raised approaches, the Mersey Gateway was the largest infrastructure project in the North-West of England and plays an integral part of the local Sustainable Transport Strategy.

Kiel's most sustainable transport system

A local transport concept for the state capital lays the foundation for high-quality local public transport. It explores if a tram or bus rapid transit system is the better option for the expansion of public transport and how footpaths and cycle paths can optimally complement the traffic flow.