Ev0: UK's first net-zero office building
Ev0: Realising UK's net-zero carbon vision for workspaces. The Ev0 building is set to be one of the UK's lowest carbon new build workspaces, using timber and low-carbon concrete in combination with boundry-pushing design and sustainability goals to achieve ultra-low embodied and operational carbon emissions.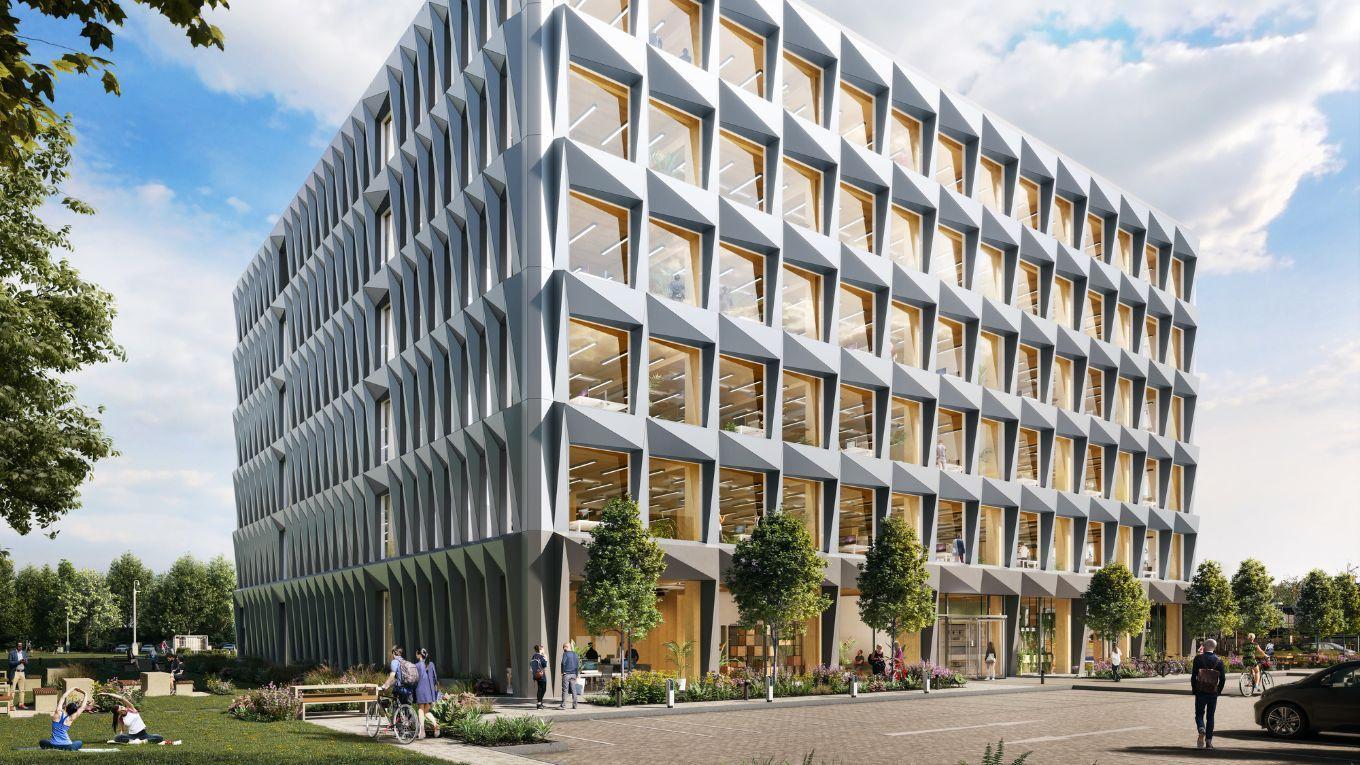 Bruntwood's Ev0 building is a £30-m commercial development with impressive sustainability credentials. The team was not only tasked to design a commercially viable net zero carbon building but to develop thinking and challenge each other to understand how to design a building with the highest environmental performance, recognising the importance of accelerating learning and development in the net zero carbon field collaboratively.
Located at the heart of Didsbury Technology Park in Greater Manchester, the 6-storey building will set the bar high for future workspaces. It will be Bruntwood's first project to meet- the LETI 2020 design targets for 'upfront carbon', RIBA's 2025 targets for whole life carbon and the UK Green Building Council's Paris Proof operational energy use targets. Ev0 also aims to achieve the BREEAM Excellent certification and NABERS 5.5 stars for its operational carbon emissions.
Ramboll is providing sustainable building design, building services, BREEAM and structural engineering design expertise to Bruntwood, working alongside the development team; Sheppard Robson architects, Deloitte Real Estate planning consultants with JLL and CBRE acting as agents.
A blueprint for ultra-low carbon workspaces
The Ev0 building's exceptional performance is underpinned by complex design approaches, with the use of timber being the most visible. Timber is used extensively throughout the structure, which will store approximately 4000 tons CO2e of CO2. The use of timber and low-carbon concrete minimises upfront embodied carbon emissions to ~500 kg CO2e/m2.
Almost all the energy required for the building will be generated on-site (94%). Ramboll has used parametric design principles and hybrid engineering to guarantee an ultra-low carbon footprint for the building that displays innovative architecture and interior design, smart building management systems, and a fully electric building. Ev0's façade has also been optimised to minimise solar gain and overheating, while the building has been designed to reuse and recover energy as far as practical, using technologies such as an ambient loop system as well as allowing for the most efficient plant to be selected based on the external conditions.
The remaining 6% of energy demand will be sourced from Bruntwood's co-operative owned wind farm in Ayrshire.
With these innovations, Ev0 is expected to be one of the most operationally efficient office building in the UK, culminating in running costs 58% cheaper than a traditional new build. It is a model for future sustainable commercial developments.
"Sustainability runs through the heart of everything we do at Bruntwood and the development of Ev0 will be a major milestone on our net zero journey. Now, more than ever, it's important for businesses to be taking affirmative action to reduce their carbon footprint. That also means being fully transparent when it comes to presenting data and assessments, so it was important to us to create an authentically NZC workspace. We're incredibly proud to be creating one of the lowest carbon workspaces in the UK."
---
Quick Factbox
: 94%

94% of Ev0's energy demand will be generated on site

: 500 kg CO₂ e/m²

Upfront carbon emissions circa 500 kgCO2e/m2

: 1000 kg CO₂ e/m²

Whole life carbon emissions 800-1000 kgCO2e/m2

: 4000

4000 tonne

Extensive timber use stores 4000 tons CO2e of CO2
Kaj 16: innovative timber building

Kaj 16, a multi-storey mixed-use residential and commercial building in the Swedish city of Gothenburg, offers a case study in how extensively we innovate with timber buildings. The building uses hybrid concrete and timber solutions and reuses material's from the site's original structure.

The Marble Pier: a timber wonder

The Marble Pier One of the largest timber buildings ever constructed in Denmark shows why it makes sense to use this traditional building material to lower carbon impact and increase livability. Henning Larsen and Ramboll worked closely with client AP Pension on all aspects of this landmark.
Martin Bissell

Director, Head of North Region Services

Simona Peet

Director, Building Structures