Empire State Plaza energy master plan
Empire State Plaza: A green energy system for the heart of Albany. We're devlpoing the energy master plan for this iconic and istoric building, helping slash carbon emissions and support the state's climate goals.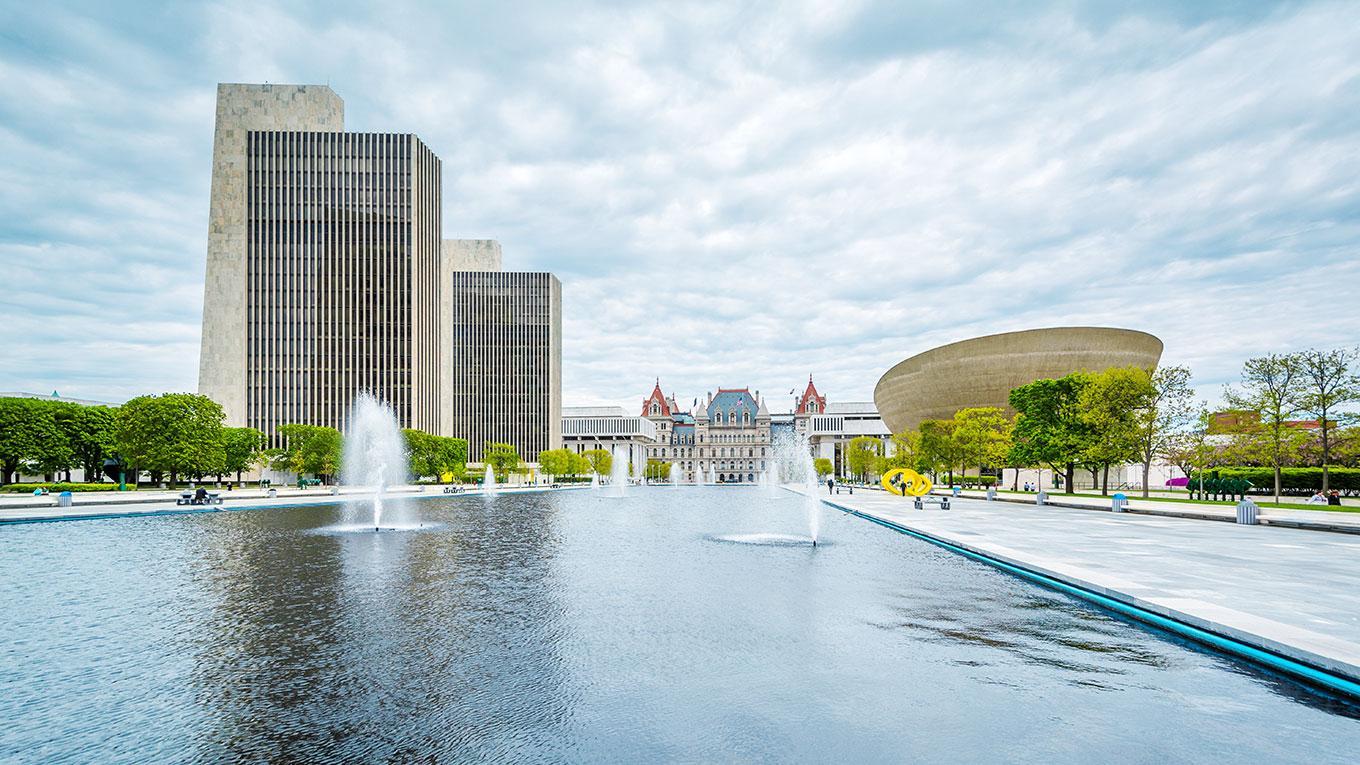 The Empire State Plaza is a spectacular building complex in downtown Albany, New York, home to several state agencies, the legislature, and governor's office. Pioneered by the late New York Governor Nelson A. Rockefeller in 1965, the iconic hub is what 13,000 state employees call their workplace.
Face of the New York State government, the Empire State Plaza will be leading the transition to low carbon infrastructure. Supporting this transition, the New York Power Authority (NYPA) and New York State Office of General Services (OGS) have started a comprehensive energy audit and infrastructure assessment of the site.
The ambition is to ensure the plaza is able to continue its critical operation, but also to determine the benefit and feasibility of introducing heating and cooling energy technologies that are in sync with the State's ambitious climate goals of cutting carbon emissions 85% by 2050.
NYPA selected Ramboll to develop an energy master plan of the Empire State Plaza based on our demonstrated global experience, key subject matter experts, and a fee that aligned with the budget.
In a press release when the project was awarded, RoAnn Destito, OGS Commissioner noted: "We are looking forward to getting this comprehensive energy audit underway and continuing our collaboration with NYPA to increase energy efficiency and resiliency at the Empire State Plaza. We are confident that Ramboll, a company OGS has successfully worked with on other high-priority projects, will help us identify the best options for making Plaza operations even greener and further improving the environment for our neighbors in Albany,"
Reducing dependency on fossil fuels and impact on the environment
The plaza's current heating and cooling system uses a steam boiler plant, powered by natural gas, to provide heating during the winter months and leverages the high-pressure steam from the boilers to power several chillers for cooling in the summer months.
The goals of the energy and infrastructure master plan include:
Develop a plan to significantly reduce the plaza's dependence on fossil fuels, including an investigation of geothermal and heat recovery as energy sources
Reduce the environmental impact of the plaza operations on the local community
Maintain and/or enhance the energy resiliency of the plaza
Ramboll is using a multidisciplinary approach to develop the energy and infrastructure masterplan, drawing on our experience and detailed knowledge of the energy sector value chain. The project is planned to conclude in mid-2023.