The world's most efficient water treatment centre
The Aarhus Rewater facility pushes the boundaries in sustainable water treatment by generating surplus energy and utilising the resources in wastewater to produce nutrients, proteins, foods, and chemicals.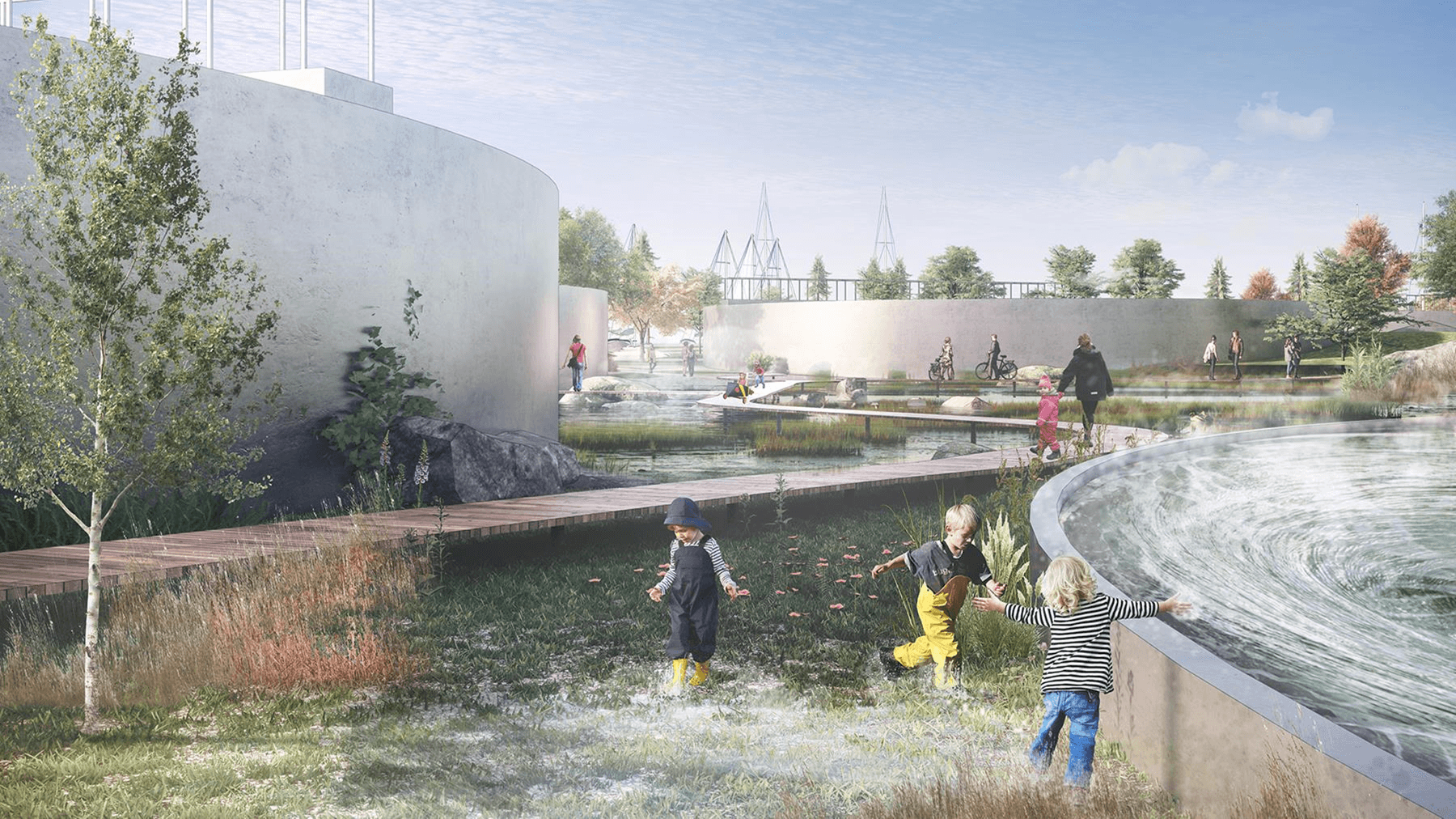 The vision for Aarhus Rewater is to create a plant that, in addition to purifying wastewater, utilises resources to an extent not seen anywhere else in the world. With its location close to the city and the sea, Aarhus Rewater will also be designed as a beautiful landmark - and one of the most sustainable treatment plants in the world.
The project will replace the existing Marselisborg facility by 2028 and will be a state-of-the-art treatment center and stand as a stunning landmark on the Aarhus harbour front. In just a few years, the existing plant will no longer have the capacity to purify the wastewater from the rapidly increasing population of Aarhus. With little room available to expand the existing facility, Rewater is to be built in a new location nearby.
Aarhus Vand has commissioned Henning Larsen to prepare a master plan for the area, design the plant, prepare design manuals and define the interaction between the plant, the city, the water and the surroundings. The architectural firm must ensure that the plant opens as far as possible to the surroundings and tells the story of water. And with a modular structure, the plant must be able to evolve in line with new needs - both in terms of technological development and capacity.
Upon completion, it is expected to be the world's most sustainable and innovative wastewater treatment plant, which, in addition to purifying wastewater, will produce surplus energy and utilize the resources in the wastewater to an extent not seen elsewhere. In the future, for example, it will be possible to produce nutrients, proteins, foods, chemicals and basic substances for the wastewater industry.
"I am sure that Aarhus Rewater with a unique architecture and with its location close to the city and the sea will be a beautiful landmark for all that we can in Aarhus in the water area," said Lars Schrøder, CEO of Aarhus Vand. "It becomes much more than a technical plant. Our ambition is to become a place of excursion that forms a hinge between the city and the port, and where you can see the city from a different angle and gain insight into the world of water and in an industry that many find exciting."