2021 is a year of recovery and recalibration. Both provide the opportunity to change processes, be it physical, mechanical, thought, or habitual. Such anticipated change and adaptation to how we think, behave and act as individuals, organisations and as a society provides a unique opportunity for 2021 to be the year where the circular transition really gains momentum. This article explores why five key drivers are likely to play an important role in the circular economy transition this year.
But why do we need to improve the pace and advocate for change? Well, the rationale behind the circular economy is logical with multiple benefits to both our economy and society as a whole. For example, the transition to a circular economy will aid in increasing productivity, profit and competitive advantage whilst simultaneously strengthening relationships across value chains. Furthermore, it is anticipated that the transition will play a crucial role with respect to combating climate change.
To date, the transition has been slow. Recent estimates put our economy as circa 9%1 circular. However, 2021 is expected to be a year whereby the circular economy transition becomes mainstream. A year whereby the circular economy is no longer looked upon with mere interest, remaining peripheral, but a year when circular economy moves to the centre.
Now, let's explore the five drivers.
Driver #1: ISO 14009
In December 2020, the global standards organisation ISO published ISO 14009 "Guidelines for incorporating material circulation in design and development". Circular economy becoming a component of ISO is a key milestone on the circular transition and a significant driver going forward.
ISO 14009 provides guidelines for design strategies on material circulation to achieve the material efficiency objectives of an organisation, by focusing on the following aspects:
Aspects to achieve material efficiency
:

Type and quantity of materials in products

:

Product lifetime extension

:

Recovery of products, parts & materials
The guidelines are expected to contribute to effective management of material circulation of products and components and thereby reduce business risks and create new business opportunities. These guidelines are intended to be used by organisations that implement an EMS (Environmental Management System) in accordance with ISO 14001.
There are more than 300,000 certifications to ISO 14001 in 171 countries around the world. Circular economy and material circulation now, by default, become a part of the thought process of 300,000 organisations globally. This is really the largest single step to date in main-streaming circular economy.
It is important to note that ISO 59020 is under preparation specifically entitled "Circular economy — Measuring circularity framework". The introduction of ISO 59020 in 2023 will further embed circular economy into the very fabric of organisations.
Driver #2: EU Circular Economy Action Plan
Applying an EU perspective will allow us to consider the next driver. In March 2020, the European Commission adopted a new Circular Economy Action Plan, one of the main blocks of the European Green Deal, Europe's new agenda for sustainable growth.
The new Action Plan includes initiatives along the entire life cycle of products, targeting for example their design, promoting circular economy processes, fostering sustainable consumption, and aiming to ensure that the resources used are kept in the economy for as long as possible. It introduces legislative and non-legislative measures targeting areas where action at the EU level brings real added value.
It is in 2021 that many of these measures are expected to become reality. Outlined below are examples of key measures expected in 2021, covering a very broad spectrum:
Legislative and non/legislative measures establishing a new "right to repair"
Mandatory green public procurement (GPP) criteria and targets in sectoral legislation and phasing in mandatory reporting on GPP
Mandatory requirements on recycled plastic content and plastic waste reduction measures for key products such as packaging, construction materials and vehicles
Sustainable built environment strategy with specific circular economy guidelines and targets
Mainstreaming circular economy objectives in the context of the rules on non-financial reporting and initiatives on sustainable corporate governance and on environmental accounting
As these come into force, be they regulatory or otherwise, their introduction will further bring the circular economy transition mainstream and, above all, significantly speed up the transition throughout 2021.
Driver #3: Circular Investment and Access to Finance
Both investment in the circular economy and access to finance with respect to product development, start-ups, city initiatives etc. are of critical importance to the circular transition. This third driver is sometimes overlooked, but the last 12 months have seen a shift from taking tentative steps to real progress with respect to investment and finance.
Since 2016, there has been a tenfold increase in the number of private market funds, including venture capital, private equity and private debt, investing in circular economy activities.
Similarly, the European Investment Bank partnered with five of Europe's largest national promotional banks and institutions to launch a EUR 10 billion (USD 11.8 billion) loan and investment initiative dedicated to the circular economy.
Since the beginning of 2020, assets managed through public equity funds with the circular economy as the sole or partial investment focus have increased 6-fold, from USD 0.3 billion to over USD 2 billion3.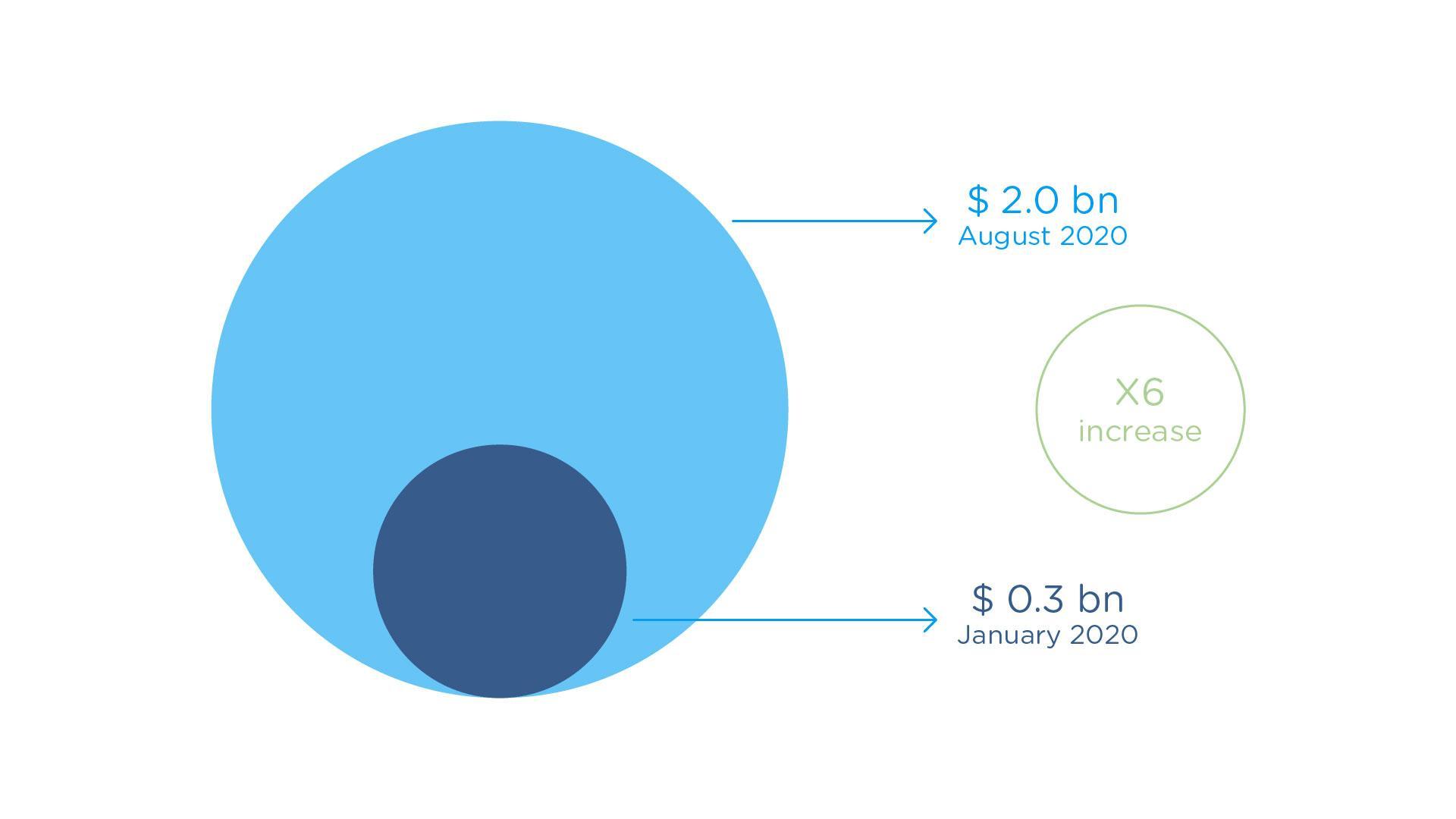 Both investment and access to finance are expected to increase; an increase which is further anticipated when taking into consideration the emphasis being placed upon a green recovery with respect to COVID-19. The introduction of the EU Taxonomy Regulation as of 1st this year puts further emphasis on circular economy.
The EU Taxonomy Regulation will require most European financial and non-financial companies to outline the environmental sustainability of their economic activities. The goal of the EU Taxonomy is to boost the financing of the transition to a more sustainable economy, by indicating what activities contribute to environmental objectives and should be considered for sustainable investments. The taxonomy will also have a significant impact on non-financial companies as they too need to align.
The circular economy is one of six objectives of the EU Taxonomy. Although the circular economy-specific objective will not be mandatory until 2022, the necessity to comply with the EU taxonomy in 2021 with respect to climate objectives will nevertheless force financial institutions companies alike to begin alignment with the circular economy objective.
Driver #4: Global Supply Chain Fragility
From the outset of the pandemic as far back as January 2020, concerns began to emerge in relation to importing components or goods from certain geographies. Since then, stress on global supply chains has increased month by month, culminating in some supply chains actually collapsing.
The more complex the supply chain, the more vulnerable it becomes. This has caused a domino effect with respect to production and how goods are produced and the agility to change production.
Furthermore, the unpredictability of the opening and closing of borders and government policy changing on a weekly (if not daily) basis has forced numerous enterprises to rethink their supply chains with respect to how international they wish such supply chains to be. How much control, or lack of, do manufactures, for example, wish to have over critical components or materials?
In a linear economy where the fragility of supply chains has been exposed by the COVID-19 pandemic, manufactures and suppliers are being forced to rethink their entire business models and consequently switch to circular models.
The more unpredictable and indeed costly materials have become, due to global supply chain disruption, the greater the focus has been upon innovative solutions to keep materials in use, to prolong their lifespan, to upcycle etc. The pandemic has also illustrated that, when necessary, production processes can be much more agile that once thought.
The necessity for economic survival resulting from global supply chain unpredictability has further fuelled an unforeseen circular economy transition that is expected to grow in 2021.
Driver #5: Climate Change
Apart from combatting COVID-19, climate change remains our planet's single greatest challenge and is expected to play a significant role in 2021 in terms of the transition to a circular economy.
Looking at our last driver for change, it is evident that greenhouse gas emissions are not falling quickly enough to achieve climate targets and switching to renewable energy can only cut them by 55%. The remaining 45% of emissions come from how we make and use products, and how we produce food (industry being responsible for circa 20% global CO2 emissions and food production circa 25%).
By applying the core principles of circular economy to how we produce goods and materials and to how we grow and produce food, can have a significant impact upon decarbonisation.
Core principles of circular economy
:

Design out waste and pollution to reduce emissions across the value chain

:

Keep products and materials in use to retain the embodied energy in products and materials

:

Regenerate natural systems to sequester carbon in soil and products
The role that the circular economy can play in reducing carbon emissions, as illustrated above, is not necessarily new, but what changes the emphasis is the regulatory and stakeholder demands being placed upon, for example, industry. The UK, for example, has committed to reduce emissions by at least 68% by 2030 compared to 1990 levels. In Denmark, it is a reduction of 70% by 2030 and full carbon neutrality by 2050.
The greater the emphasis placed upon decarbonization, the greater the emphasis placed upon finding solutions to achieving ambitious targets. This, in turn, places a greater emphasis upon applying the principles of circular economy in 2020 as a means to decarbonise, reduce emissions and meet continuously evolving regulatory requirements.
The necessity to meet ambitious reduction targets across all components of our economy and society is pushing the principles of circular economy to the fore, a push that is expected to only accelerate in 2021.
Moving Forward in 2021
The circular transition is no longer a transition taking tentative steps, but one that is striding with confidence into 2021. Its benefits, although recognised for many years, now have the necessary drivers and catalysts in place to ensure that they are reaped by industry, businesses, and cities as well as customers and citizens alike.
2021 is a year of recovery, a year of recalibration. But it is also a year of progress where the circular transition reaches a pace never reached before.
The Circularity Gap Report 2020
Ellen MacCarthur Foundation
Ellen MacCarthur Foundation
Want to know more?
Patrick Moloney

Market Director, Strategic Sustainability Consulting
The EU Taxonomy Regulation: 5 reasons to start aligning today
Based on a thorough process, Ramboll was able to discloses the client's alignment with the EU taxonomy and offered a set of recommendations on how to ease future reporting and improve alignment score.
Circular disruption in the buildings value chain
The ripple effect of aggressive regulation coupled with investor and customer expectations will drive a circular economy disruption in the buildings sector. In this article, our circular economy experts explain the consequences for the main actors in the buildings value chain.