Amy Malick
November 14, 2019
Rethinking airports in a carbon-constrained world
The airport sector is reimagining the functionality of airports to tackle the paradoxical challenge of addressing the climate crisis and continuous passenger growth. As the first carbon neutral airport in the US, Dallas-Fort Worth International Airport is an excellent example of an innovator in the industry.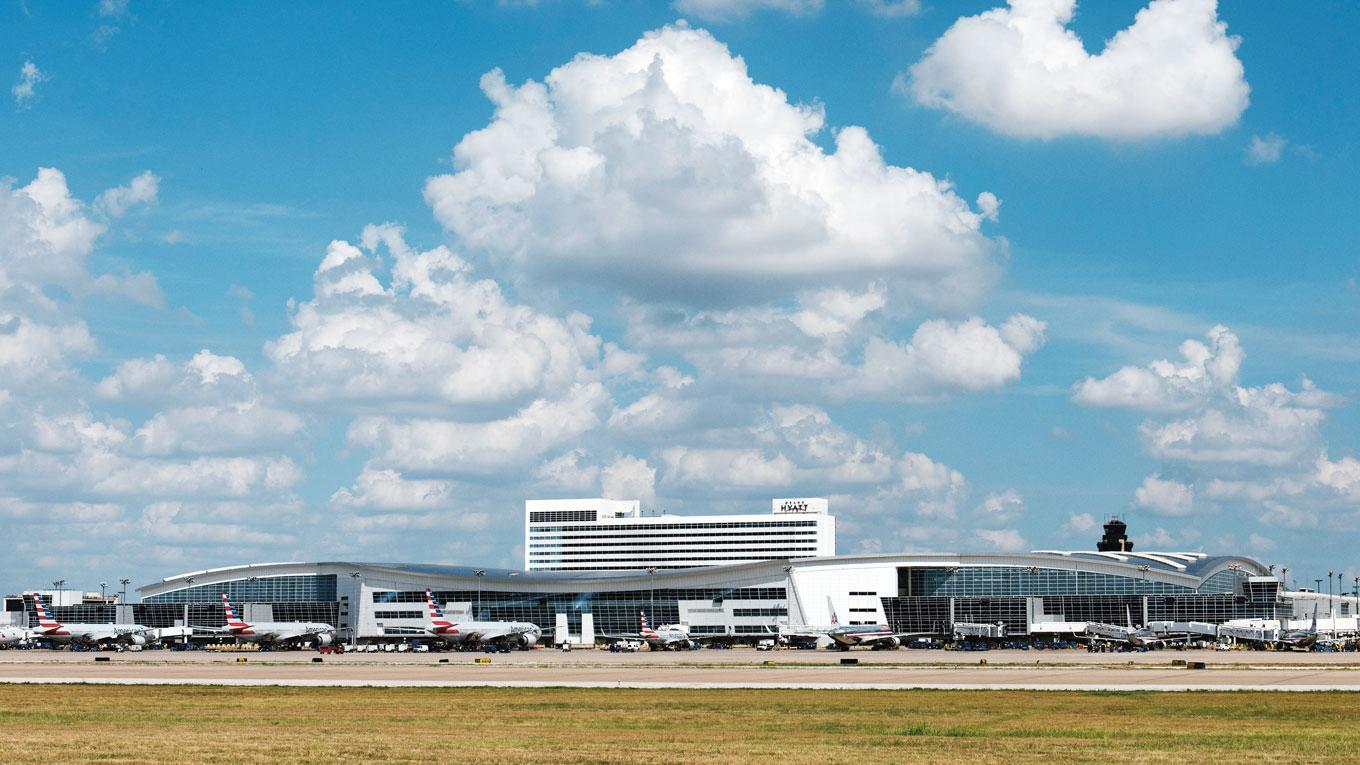 Airports are miniature versions of our modern civilization - part global transportation and logistics hub, part retail mall and part major employment centre. Airports are clusters of a range of economic activity around their core passenger and freight activity. A typical airport has a sphere of influence that stretches far beyond the community that it serves. In addition to employing many local people on site, it may support thousands of small-scale farmers in developing countries through refrigerated cargo handling, and connect remote suppliers to an otherwise distant value chain. The paradox of airports in today's society.
Airports are paradoxical – mundane though somehow mysterious, we use them with such regularity that they hardly warrant a second thought, yet their inner-workings are unknown to most. They are symbols of modern ingenuity, but at the same time are completely ripe for disruption. And the industry that they serve is the focus of much disdain in our carbon-constrained world, though we rely on them so heavily that we cannot imagine life without them.
It is no great surprise, then, that an entire movement of leaders in the airport sector have come together in recent decades to reimagine the functionality of airports in today's society. To support ever-increasing passenger growth while addressing the climate crisis is in itself a paradox that requires deeper thinking about costs, benefits and trade-offs, prompting a reinvention of business norms and extensive cooperation and collaboration across a complex web of business relationships.
Disrupt or be disrupted
One airport that is living proof of this paradox is Dallas-Fort Worth International Airport (DFW). In a northern corner of the US state of Texas, seemingly distant from the worst impacts of climate change and the movement to prevent them, DFW has made it a strategic priority to decouple passenger growth and economic performance from its carbon impact. Already carbon neutral, the airport recognises the critical need to concurrently transform its infrastructure, its approach to technological innovation, and its environmental management in order to achieve this objective.
In a quest to be the disruptor rather than the victim of disruption, DFW views its sustainability and digital transformation journeys as two sides of the same coin. Through innovative partnerships that it has begun to explore with Silicon Valley tech companies, DFW is working to co-develop solutions to challenges unique to airports that can be replicated across the industry. As a member of the Ramboll team, it is an honor to be DFW's trusted advisor as it charts its future course.
If we look to the Nordics, we also find an inspiring example of different thinking at Bromma Airport in Sweden. The City of Stockholm is developing a strategy for the continued use of Bromma Airport located only 7,4 kilometres from the city centre. We are helping to develop a roadmap to support the development of sustainable aviation. This means looking at how people travel to the airport and looking into the implications of introducing electric aircraft to serve regional routes out of Bromma.
Taking action against climate change
Our changing climate is another disruptor for which airports worldwide have begun taking action. Extreme heat can wreak havoc on the impervious surfaces that make up airfield infrastructure, while flooding can damage building systems while simultaneously grounding or diverting aircraft. Such disruptions can result in massive financial losses across the value chain. As airports renew their infrastructure to accommodate passenger growth, they are simultaneously working to predict the most critical and effective ways to become resilient to climatic uncertainty.
Annual passenger volumes at Auckland International Airport have grown from only several hundred thousand passengers in 1966 to over 20 million today, and this number is expected to double again by 2044. Auckland International Airport Limited (AIAL) is in the concept design stage for a proposed second runway in order to accommodate this passenger growth while minimising aircraft noise and adverse environmental and cultural impacts. Located on Manukau Harbour, AIAL also must protect the airport against future sea level rise and guard it as a logistics lifeline for Auckland and New Zealand during emergency events.
Addressing these challenges will require creativity, flexibility and ingenuity. We are very pleased to be guiding AIAL's strategic decisions on this critical infrastructure project as we lead the concept design phase for the second runway.
Problem-solving across partnerships and sectors is key
In this period of intense disruption and re-invention, airports are leveraging their global, interconnected network of peers to problem-solve together. As we journey into the unknown, we can be certain that the airport sector will continue to innovate in the same spirit that inspired the earliest pioneers in aviation.
Online publications
Want to know more?

What are "scope 4" emissions and why should I care?
As if three scopes for greenhouse-gas emissions were not enough, conversations around scope 4 are beginning to pick up. In this article, our expert Laura Bowler gives you a crash course on these 'newer' emissions and helps you understand if they are right for your company.
How to tackle climate adaptation in our homes and buildings
The UK is starting to experience more extreme weather that climate science has been saying for decades, but now it is becoming more prevalent. Continuing to break new record temperatures, we must face the reality that our homes and buildings need to be better-equipped to mitigate sweltering temperatures. Our expert Andrew Mather shares ways to adapt homes and buildings.