Anna Pekala
June 20, 2023
Navigating the complex landscape of regulatory requirements for green fuels
As a manufacturer, investor, or off-taker seeking green fuels like hydrogen or biogas for your sustainable transition, you need to comply with diverse regulatory and policy frameworks that set criteria for the production, use, and certification of green fuels. Here's why and how you can stay ahead of the curve.
The latest IPCC report has issued a clear warning, emphasising the urgent need for climate action to secure a liveable future for all.
A key pathway towards decarbonisation is the electrification of the transport sector, industries, and energy systems. Electrification is not always possible in hard-to-abate sectors such as energy-intensive industry, maritime, and aviation, where a different path is needed. As a result, demand for sustainable alternative fuels to replace fossil fuels in these sectors is increasing significantly.
To ensure transparency in the growing market for green fuels (e-fuels, which are produced from renewable energy, or biofuels, produced from biomass), implementing a framework that ensures climate benefits is becoming increasingly important. EU regulations and policies, like the Renewable Energy Directive II (RED II) on green fuels and EU Taxonomy, intend to accelerate the green transition of hard-to-abate sectors, while ensuring producers select the most sustainable options possible, such as based on the energy source.
There is widespread consensus for these actions, yet the regulations and underlying requirements are extremely complex to navigate, are not aligned across different frameworks, and frequently updated to accommodate increasing market maturity.
Below we explain which key frameworks apply to green fuels, and how the underlying requirements differ, depending on whether you want to obtain a certificate (in this case a document that verifies the production and use of environmentally friendly or low-carbon fuels) or make sure you comply with the EU Taxonomy.
Three EU regulations define mandatory and voluntary requirements that producers of green fuels must adhere to, each with specific requirements related to different production processes:
The Renewable Energy Directive (RED II) raises the overall EU target for renewable energy sources consumption by 2030 to 32%. The directive also sets production requirements for biofuels with greenhouse gas (GHG) and feedstock sustainability requirements. With the adoption of the delegated acts required under RED II, production requirements for e-fuels will also be defined for renewable liquid and gaseous transport fuels of non-biological origin (RFNBOs) and recycled carbon fuels. These fuels will need to meet renewable energy source requirements and GHG reduction requirements.
The proposed hydrogen and decarbonised gas market package aims to facilitate the integration of renewable and low-carbon gases into the existing gas network. The package covers green fuels made from non-renewable sources but requirements on the sustainability and certification of green fuels are still pending.
The EU Taxonomy aims to facilitate sustainable investments by defining environmentally sustainable activities. The EU Taxonomy imposes production requirements for green fuels which are stricter than the ones proposed in RED II and the Hydrogen and decarbonised gas market package. Investors will be looking for investments in green fuels that are aligned with the EU Taxonomy.
Who will be subject to diverse regulatory and policy frameworks within green fuels – and when?
:

Producers

Producers should prepare to meet the EU's production criteria, such that fuels can be certified, e.g. under RED II/III and the proposed Hydrogen and Decarbonised Gas Market Package. Although certification schemes offer regulatory compliance, they could increase attractiveness of the fuel in the market, as there will be a demand for certificates from end users. As the EU and its member states seek to incentivise production of sustainable alternative fuels, funding and subsidy schemes will link to the production of fuels that meet regulatory criteria.

:

Investors

As investors seek to become more sustainable and align with regulatory and policy frameworks, they will seek to invest in activities that meet the criteria of the underlying regulation. That includes projects that comply with production requirements set by the EU. To gain access to funding, producers will need to ensure manufacturing of RFNBOs and biofuels are EU Taxonomy aligned.

:

Off-takers

To comply with sector specific regulation, off-takers will need prove that green fuels meet sustainability criteria i.e. they will need to document certificates that comply with RED II requirements.
Specific requirements for the production of e-fuels and biofuels
Green fuels can be divided into two main categories based on their production process:
Electro-fuels (e-fuels), which are derived from power-to-x processes
Biofuels, which are produced through bio-to-x or waste-to-x processes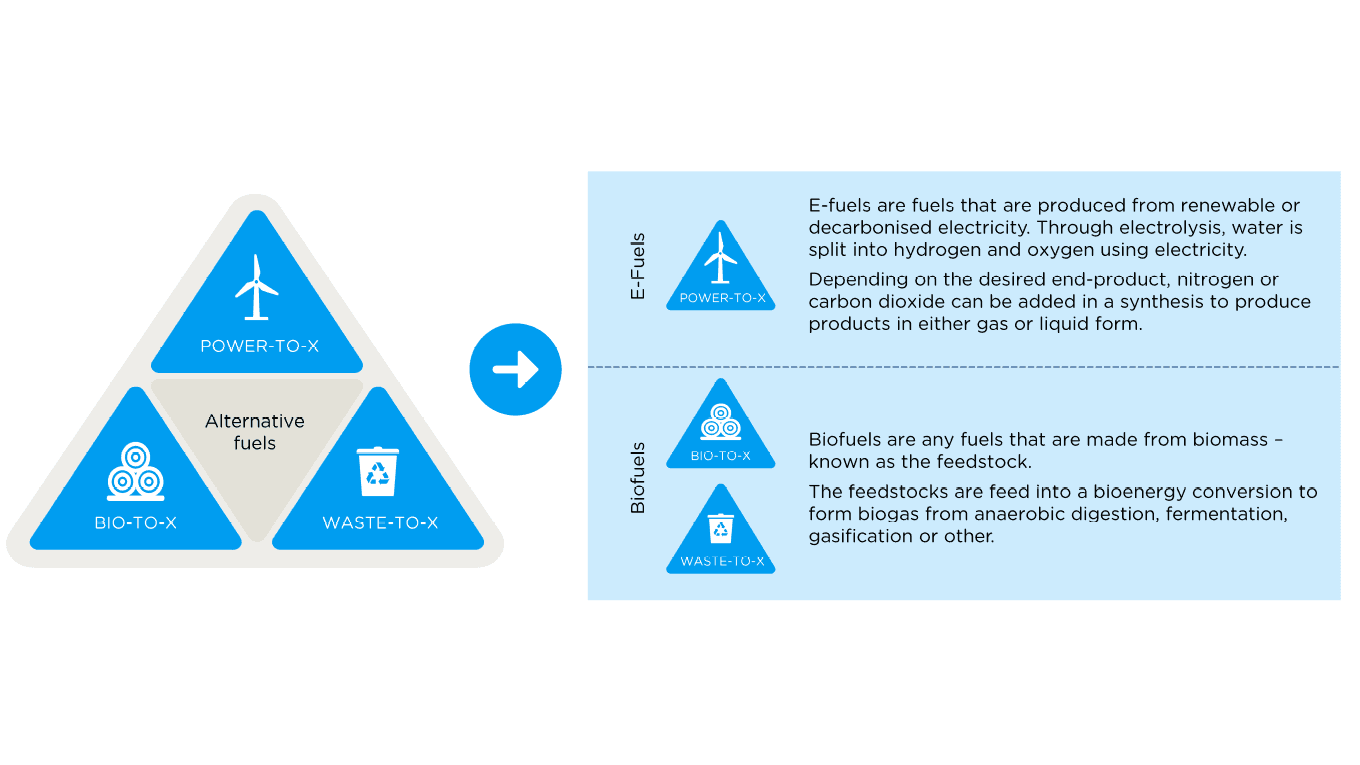 While all green fuels are required to produce fewer GHG emissions than conventional fossil fuels, e-fuels and biofuels are in general treated separately by the regulatory frameworks as they have different production processes and requirements.
Criteria for regulatory frameworks for e-fuels and biofuels
Current EU requirements aim to reduce GHG emissions from transport fuels compared to conventional fossil fuels by 50-70% depending on the fuel type. The requirements also include specific targets for different stages of the value chain.
E-fuels are defined in RED II, article 2 (36) as renewable liquid and gaseous transport fuels of non-biological origin (RFNBOs). They must be produced using renewable energy sources, and still meet the GHG reduction requirement of 70% compared to a fossil fuel comparator. For renewable electricity, there are specific requirements for sourcing. It is distinguished between electricity sourced from a directly connected installation and electricity taken from the grid.
The most important requirements are:
Electricity from a directly connected installation:
Connected installation came into place within 36 months of fuel production facility
It is connected by a direct line or takes place in the same installation.
Electricity taken from the grid:
Bidding zone with over 90% renewable electricity in the previous year
Bidding zone requirements: Emission intensity below 18 gCO2e/MJ and signed renewables power purchasing agreement (PPA) with geographical and temporal correlation or specific electricity consumption conditions during an imbalance settlement period.
This is where it gets complicated
In the proposed Hydrogen and Decarbonised Gas package, another definition of e-fuels is used, namely low-carbon hydrogen and its derivatives. Final requirements are still pending agreement among EU institutions, and the expected enforcement is currently unknown.
Low-carbon fuels are produced from non-renewable sources, with the production of hydrogen and synthetic gaseous and liquid fuels required to achieve a GHG emission reduction of 70% compared to a fossil fuel comparator. Despite the comparator not yet being defined, developments are expected by December 31, 2024, when the Commission will adopt delegated acts under Article 83 to specify the methodology for assessing greenhouse gas emission savings from low-carbon fuels. Requirements for CO2, water, and other inputs have not been set but as we await the final version of the regulation, this may change.
E-fuels can also be produced according to criteria laid out in the new EU Taxonomy. This framework establishes a list of environmentally sustainable activities to facilitate sustainable investments, where an activity is considered sustainable if it substantially contributes to at least one of the six environmental objectives while doing no significant harm to any of them. As reporting requirements become more stringent, investors will increasingly seek to align their portfolios with the EU Taxonomy, which covers the manufacturing of e-fuels and biofuels and imposes stricter production requirements than the RED and the Proposed Hydrogen and Decarbonised Gas Market Package. Consequently, there will be a growing demand for taxonomy-aligned investments in H2 and its derivatives.
The same set of regulations apply for biofuels, where requirements differ depending on the regulation. The main differences between the regulations are related to GHG reduction targets (depending on regulation between 50%-70%), biomass sustainability criteria which are not applicable for all regulations, and limitations for feedstock from food/feed crops which are only limited for RED II aligned biofuels.
This means that market participants must consider both GHG reduction requirements and the implications of feedstock selection on certification. Navigating these regulatory nuances is crucial for compliance and success in the biofuels industry.
The table below provides a summary of the requirements in different frameworks.
Uncertain future developments
The presented regulatory landscape for green fuels is uncertain and subject to change. While RED II currently governs the industry, there are pending Delegated Acts on Additionality and Methodology expected to be accepted in Summer 2023. Additionally, the RED III update is underway, with a provisional agreement reached in March 2023.
All market participants must stay informed about these regulatory developments as they can significantly impact the demand for green fuels and the requirements for production, and to be prepared to adapt their business strategies accordingly.
Ramboll is here to help
As the regulatory frameworks fall into place, Ramboll can help you navigate uncertainty and understand the potential implications.
If you are a fuel producer, investor, or other stakeholder affected by various green fuel regulations, you may have questions regarding the potential impact on your business. We specialise in providing comprehensive guidance and solutions tailored to help you navigate these regulations successfully.
Our experts can assist you in understanding how these regulations could affect your operations, offer strategies to prepare your business for compliance, and identify projects or investment targets aligned with the evolving regulatory landscape. Moreover, we can provide insights into how these regulations may influence the markets you are currently operating in.
Want to know more and develop effective strategies? Please get in touch.
Want to know more?
Anna Pekala

Business Manager

Ask Tonsgaard Hjordt Brüel

Market Director, Strategic Consultancy
Does impact investing guarantee ESG performance?

Capital is increasingly being directed into impact investing, including into renewable energy projects. We investigate if these impact investments can automatically be considered good investments from an ESG standpoint and highlight some particular issues for investors in solar power.

Feb 10, 2023