Corey Barnes-Covenant
June 6, 2022
Embodied Carbon in Real Estate: Reducing barriers, reducing emissions
In this piece, Corey Barnes-Covenant, our circularity and real estate sustainability expert, points to four barriers the industry will have to overcome to reduce embodied carbon in buildings. Explore the barriers and see what can be done to mitigate them.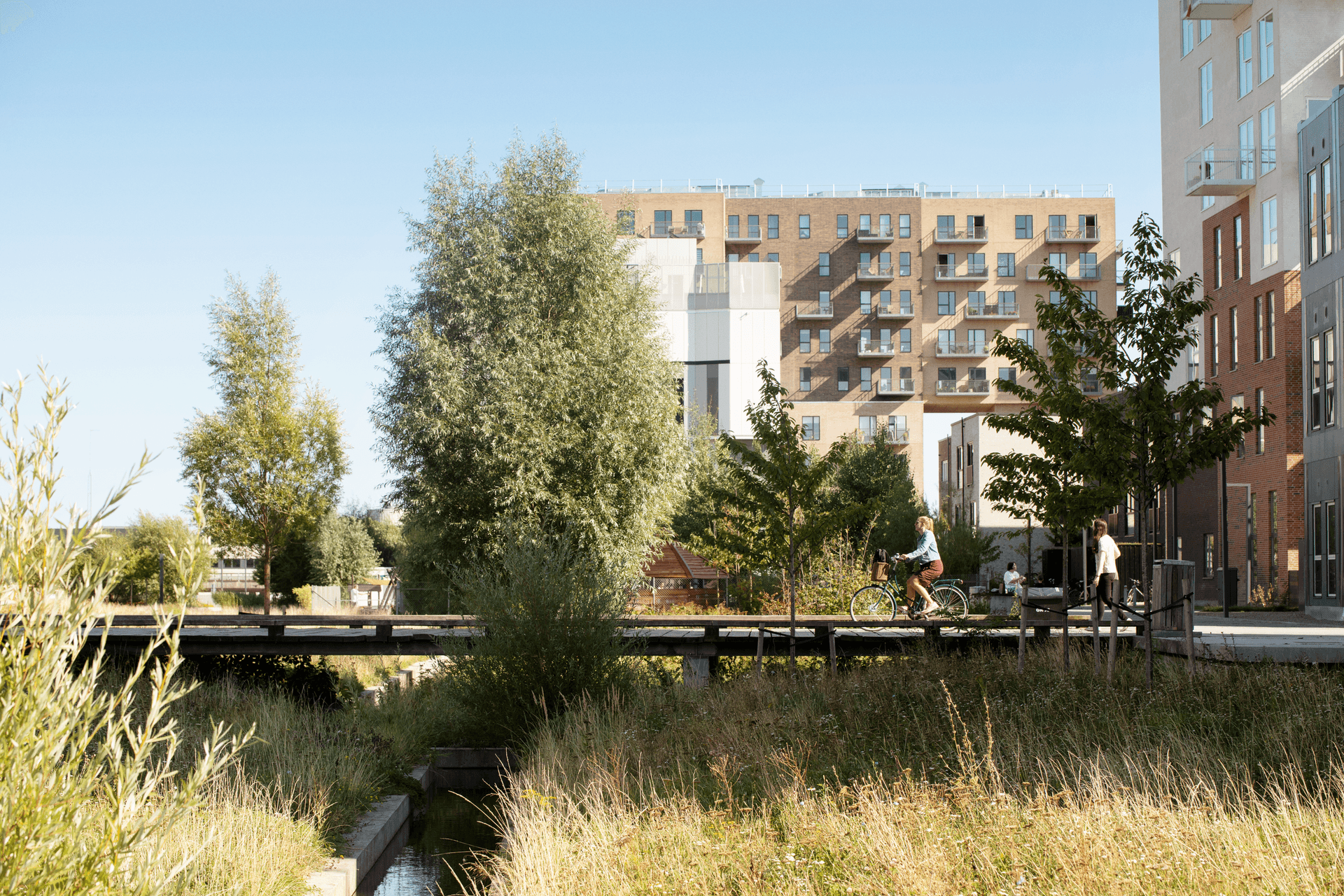 The idea of a carbon efficient building has traditionally focused on sophisticated design strategies to significantly reduce in operational energy loads and integrated renewable energy resources with load shifting technologies that decrease the carbon intensity of the energy used.
While still necessary, operations of buildings account for only 28% of total global carbon emissions and excludes a sizeable portion of emissions generated by buildings. Those emissions are caused by high-carbon building materials and practices (embodied carbon).
Embodied carbon emissions account for about 11% of global emissions, approximately the same as all emissions from agriculture. And yet, until recently, these carbon emissions have flown under the radar within buildings. But, as we continue to make our buildings more operationally efficient, the relative impact of buildings will shift from the carbon they are using to operate to the carbon they contributed through their materials and construction.
To meet the carbon reduction targets needed to keep climate change in check, we must reduce the embodied carbon within our buildings. That also implies understanding and weakening the barriers holding the real estate industry back from further adoption of low-carbon materials, as well as better understanding and promoting the possible solutions.
Barriers to embodied carbon reduction
The barriers to reducing embodied carbon can be defined in 4 categories: Institutional, Financial, Technological, and Knowledge.
Institutional barriers arise from the inertia of changing building practices and codes that have been developed and refined over decades to match a new world. Financial barriers happen when the cost of new technologies to solve these problems have not achieved the economies of scale to meet current materials prices. Technological barriers arise from lack of market-viable low-carbon materials at scale. And lastly, knowledge barriers arise from the lack of 1) knowledge about the current embodied carbon performance of buildings and 2) knowledge of the solutions available to reduce it.
Let's take a closer look at each of the barriers
By nature, and for good reason, the building sector is conservative. While rapid innovation dominates in industries like consumer electronics, progress within buildings must be measured to ensure the protection of the building's occupants. That conservatism is especially critical when dealing with the parts of the building that are primarily responsible for embodied carbon: structural components.
Because the reduction of carbon often requires new thoughts and solutions, reduction of embodied carbon is not the path of least resistance in design; often it can add more complexity to the design process by questioning the tenets that have served the industry for a very long time.
We need to start challenge fundamentals such as: "Can I reuse the structure of an existing building instead of building new?"; "How can I reduce the physical materials while still providing the required aesthetic and functional properties?"; "Does designing with lower carbon materials require a change in how we design the building?"
To tackle these questions, we need architects and engineers that are courageous and willing to challenge the traditions of design to show what is possible.
As the demand for lower-carbon materials grows and the production technology continues to progress, the financial justification will become easier. But until that point, we will need more visible, market-acceptable recognition for the value of building in a cleaner way to offset the financial impacts of the technological learning curve.
Additionally, even though we are beginning to see more low-carbon building products, they are not available in all geographies and with the same lead times. This added complexity of geographic and lead time variability adds project risk that will need to be mitigated by the architect and contractor.
There are two levels of technological barriers to implementation: design technology and materials technology. Within design, while more CAD companies are beginning to integrate carbon into their building modeling technologies, the implementation of this technology is far from widely accepted.
Without the ability to calculate in design, broadly accepted, high-quality life cycle analysis (LCA) technicians are needed to understand the building carbon content. However, there is a still a lack of widespread, high-quality LCAs and Environmental Product Declarations (EPDs), especially in particular regions, to enable designers to use them as a design tool.
There has been significant innovation recently in critical high-carbon building materials such as steel and cement. However, there is still more innovation needed to bring these technologies to scale.
Given the investment and construction timeline for these large capital projects, investments need to be happening now to make a sizeable enough impact in these industries to meet the carbon reduction timelines necessary.
Embodied carbon has existed as a concept for at least a decade, but most building professionals still have very little knowledge about
what materials have high embodied carbon
how to lower embedded carbon
how to measure embodied carbon within designs.
The need to learn new techniques is not new to the building industry, but this knowledge and design skill must become integrated into the building community much more quickly. As such, we will have to ensure that the knowledge about embodied carbon is widely available, easy to understand, and easy to implement for all designers who look for it.
It is paramount to create additional opportunities for designers to learn this information by increasingly demanding that the embodied carbon of our buildings be measured and reduced over time.
Only when the knowledge becomes immediately relevant and useful in most projects will we start to build the capabilities of the design community to tackle this on a broad scale.
Solutions for change
There are still barriers to understanding and reducing embodied carbon. However, there are some important ways that we can begin to change the market, erode these barriers, and more rapidly integrate embodied carbon reductions into our built environment. In concrete terms, I find that two solutions would be a start to nurture new and better practices.
Whole Building Embodied Carbon Calculations
Firstly, we need to accumulate the data necessary to be able to set a baseline for making change. To do this, developers and asset owners should build in the requirement that whole-building LCAs be performed on new developments, independent of setting reduction targets.
Setting the requirement for the use of LCAs within the design process will create the demand necessary to bring these tools into the design process and the practical experience necessary to integrate the information into design decisions that are necessary to start embodied carbon reductions. While LCAs have been incorporated into many building rating systems, these analyses should not be limited only to buildings that are being certified but should become a part of the normal design process.
Where a whole building LCA is not feasible, the developer or asset owner should, at minimum, require an LCA for the structural system of the building. Setting this measurement will send the market signal to high-carbon intensity product manufacturers that there will be a market for low-carbon products to allow them to make capital investments in new technologies to support.
Design Requirements / Demand
Secondly, after the establishment of measurement techniques, I urge developers and asset owners to also send a very clear signal to the market by establishing design targets for embodied carbon intensities within their designs. These targets should ramp down over time to clearly let the market know that there will be increased demand for low-carbon products in the near future.
While these design targets could be established as voluntary in the near-term, to drive embodied carbon reductions, these targets should become a building design requirement in the mid-term to clearly move investment toward the design companies that are able to create these buildings and materials companies that are able to supply low- or no-carbon building materials.
Some are leading the way
While embodied carbon is now coming to the forefront of carbon reductions within buildings, it is going to grow in importance and will need to be included with the progress that is being made in operational energy reductions to continue to decarbonise our buildings.
Given the pace of growth and development, our built infrastructure is one of the most important sources of carbon that we can focus on to slow the progress of climate change.
Luckily, there are many developers and designers that are already leading the way and driving both operational and embedded carbon out of their portfolios. I hope to see them gain competitive advantages – advantages that will spur further change and commitment across the industry.
There is no doubt that we are up to the challenge of moving our buildings to Net Zero or even Net Positive, including embodied carbon.
About the author
Corey Barnes-Covenant helps companies in the real estate sector shift to more sustainable and circular business models and approaches. He works with global corporations from Ramboll's Management Consulting practice in the US. Explore his take on circularity in this video.
Want to know more?
Corey Barnes-Covenant

Head of Strategic Sustainability Consulting US
What are "scope 4" emissions and why should I care?
As if three scopes for greenhouse-gas emissions were not enough, conversations around scope 4 are beginning to pick up. In this article, our expert Laura Bowler gives you a crash course on these 'newer' emissions and helps you understand if they are right for your company.
How to tackle climate adaptation in our homes and buildings
The UK is starting to experience more extreme weather that climate science has been saying for decades, but now it is becoming more prevalent. Continuing to break new record temperatures, we must face the reality that our homes and buildings need to be better-equipped to mitigate sweltering temperatures. Our expert Andrew Mather shares ways to adapt homes and buildings.