iM3NY li-ion gigafactory
iM3NY is a new lithium-ion battery gigafactory, and a critical link in driving the energy transition. It is North America's first lithium-ion battery factory that features innovative technology for producing sustainable, high-performance batteries.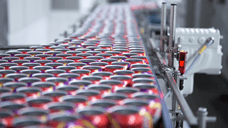 Ramboll has partnered with Imperium3 NY, Inc. (iM3NY) – a global consortium of clean energy businesses – to help build the high-tech manufacturer's first gigafactory for the research, development and large-scale manufacturing of lithium-ion batteries.
Located in Upstate New York, the manufacturing facility started production in 2022, initially producing several thousand cells. This will be ramped up to 15,000 cells per day as production scales up to reach an annual production rate of over 1 gigawatt-hour (GWh), which will result in significant economic impact on the regional economy.
State-of-the-art technology to help drive the global energy transition
Energy storage, and particularly lithium-ion, will play an increasing role in assisting the global energy transition in numerous applications from renewable integration and grid services to facilities and transportation networks.
iM3NY has an exclusive North American technology license agreement with Charge CCCV LLC (C4V), a Binghamton, New York-based R&D company with intellectual property for more eco-friendly lithium-ion batteries. iM3NY's first-generation batteries incorporate C4V's patented lithium-ion technology to produce higher capacity, safer, longer cycling and lower-cost batteries.
The clean battery cells will be used to power electric cars and trucks, grid energy storage, and sensitive projects in the defense industry.
Delivering a fully integrated solution
Over the past years, Ramboll has helped iM3NY to secure funding and is now delivering a fully integrated solution comprising program management, engineering, process integration, construction, installation, and start up and commissioning support to launch the new gigafactory.
"We're very proud to be able to support iM3NY in this project, which is aligned with Ramboll's mission to create sustainable societies. We're excited to advance our partnership with the iM3NY team to design and build the infrastructure needed to make this advanced manufacturing facility a reality," says Jack Bell, a Senior Vice President at Ramboll in the Americas.
InterGen battery storage, UK

Gateway Energy Centre is the UK's largest battery energy storage project. With an ultimate capacity of 450 MW (900 MWh), the faclity represents a significant piece of system architecture in the UK's transition to net zero.

Germany's pit thermal energy storage

The PTES project and a modern district heating network are the cornerstones of Meldorf's new smart energy system. The new setup not only reduces carbon emissions, but also provides flexibility and security of supply to the residents of the small town in North-Western Germany. It's also the country's first and largest such project.

HySynergy green H2 production plant

Supporting Everfuel in establishing one of Europe's largest production plants for green hydrogen. HySynergy is a key link to decarbonising the transport sector and industry with green hydrogen.
Steve Palin

Senior Vice President

Jack Bell

Senior Vice President