75% of greenhouse gas emissions come from burning fossil fuels. As energy demand rises, the world must urgently decarbonise and switch to renewables.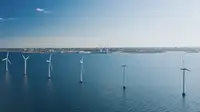 The next leap in the green energy transition
Renewable energy is fast becoming the only game in town.
Technologies like Power-to-X are maturing, and there's both public and private sector momentum to decarbonise. Partnering with our clients, we have contributed to some of the world's most pioneering landmark projects – from energy islands, to offshore wind, waste-to-energy and Power-to-X.
We work at both the cutting edge of energy solutions, and those that are ready for scale.
: 1,700+
specialists
We have more than 1,700 specialists globally working within the energy sector – and hundreds more providing complementary services. With our multidisciplinary approach and spanning the whole value chain, it is Ramboll's ambition to be the leader in the green energy transition.
50+ years of experience
:

With more than 50 years of experience in energy solutions, our expertise spans the full spectrum of technologies and project phases: from permitting to developing business cases, executing design engineering, and long-term operation and maintenance.

:

At Ramboll, we work with our clients to deliver solutions that are future proof, efficient, cost-effective and practical.
Dominion CVOW: 2.6GW offshore wind farm
Coastal Virginia Offshore wind. We're bringing scale to US offshore wind ambitions in a unique partnership with Dominion Energy. The 2.6Gw project set to become the largest offshore wind farm in the US and one of the largest in the world.
Amager Bakke: leader in waste-to-energy
A 10-year partnership between Ramboll and Copenhagen-based utility pushes the envelope for carbon capture, circular economy, and energy from waste, at the world's most efficient waste-to-energy plant.